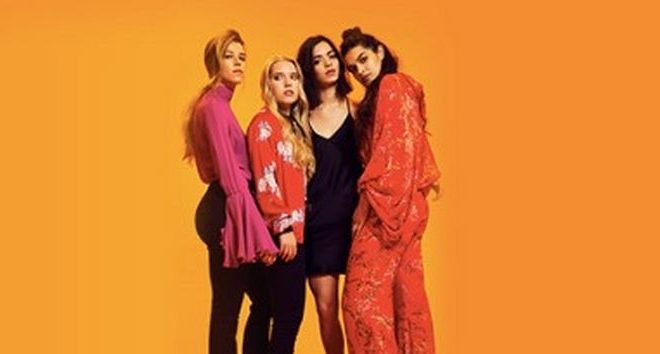 Features
The Aces Are Flying Straight at You
By
|
By: Lindsay Flanagan
A lot of major bands these days are coming out of Utah. Yes, Utah—that mostly conservative, western state that's home to majestic mountains, awe-inspiring arches and mega-bands like Imagine Dragons, Neon Trees and The Moth & The Flame. Brandon Flowers of The Killers got his start in Utah. We've even featured flourishing musician, John Allred, who hails from this state that's tucked between Nevada and Colorado. And coincidentally (or not), the all-female pop-alternative band The Aces got their start playing shows at the Velour Music Gallery in Provo, Utah, just as Imagine Dragons and John Allred did. The ladies are now signed to a record label and playing shows as far away as London.
But that's getting a bit far ahead. In fact, the story of The Aces begins much sooner than their Velour venue-playing days. Cristal Ramirez (lead vocals, guitar), her sister Alisa Ramirez (drums) and their two best friends Katie Henderson (guitar, backing vocals) and McKenna Petty (bass) formed the band when they were just kids. They played for school talent shows and assemblies and then moved into venue territory. Yes, as teenagers. The conservatism of Utah made it possible for the girls—now women—to play in venues where older bands played because alcohol wasn't served. In an interview with online music magazine EUPHORIA, the band stated that they "really developed and grew as artists on [Velour Music Gallery's] stage. Provo's music scene was crucial for us as a band."
As kids—and other than being in a successful-for-teens band and playing shows and winning over audiences who were at the shows to see older bands—the women had fairly typical upbringings. They all got into music at a very young age. In fact, when Cristal was ten years old and Alisa was eight years old they asked their best friend McKenna to ask for a bass guitar for Christmas. She got it and the foundation for The Aces began. A few years later, Katie Henderson (who McKenna met at school and was already a guitar player who happened to have equipment and a band room) joined the group. They called themselves The Blue Aces—named so because a friend of theirs suggested that a cool band name would have a color and an object in the name. Cristal chose blue because she liked the color and "aces" because it sounded cool. It was just last year that they dropped the "Blue" from their name and became The Aces, possibly as a way to move from beginning band to fully-fledged musicians who have an incredible career ahead of them.
In addition to music, the girls have a variety of interests – from Alisa's love of yoga to Katie's love of sports. But when Cristal, McKenna and Katie were graduating from high school (Alisa is two years younger than the other women), the decision to pursue music instead of other interests or college came to a head. And, luckily for music lovers, the women chose music and the band, something they had been working on for the eight years prior to graduation.
During those eight years, they grew a following in their teens playing local shows including the popular Utah music event the Rooftop Concert Series, all of which led to a release of a seven-song EP in 2012. Paste Magazine named them as one of the top ten bands in Utah, which is a huge honor, considering the names of bands we mentioned above. Their fans have followed them from teen-band to adult musicians who have now released a record-label backed EP, I Don't Like Being Honest, in April of this year.
The Aces signed to Red Bull Records in October of 2016. The label has a roster of independent artists, but also includes the chart-topping band AWOLNATION who have a million-plus followers. Red Bull Records is a subsidiary company of the energy drink Red Bull. They began in Los Angeles in 2007 and by 2012 had spread their reach to London. So, The Aces aren't aiming low—they are flying high on wings (pun totally intended because, well, Red Bull gives you…).
The first single that was released under the Red Bull label was "Stuck," which was named on BuzzFeed's "57 New Songs You Need to Know This Month" in July, 2016. Although that list is in no particular order, it should be noted that they are li sted as number one and were the featured photo of the article. The online magazine Nylon also featured the song as an "unpretentious" and "dreamy" debut that, if John Hughes were to make a movie today, would be the leading song on the soundtrack. The single has more than two million plays on streaming services.
A second single from the EP, "Physical," is a daring take on how sex is glorified and glamorized in today's world. The song was featured on NPR's "All Things Considered," where the band stated, "Being physical is obviously fun, but it can quickly become lackluster if that's the only thing a relationship has going for it. Substance is so important and underrated." The video for the song has yet another 80s John Hughes feel to it, with the girls dressed in pastel prom dresses and jumping on a bed under the flickering neon-pink sign of a rundown motel. The song was listed on Spotify's #NewMusicFriday playlist in the US and UK.
Since signing with Red Bull and releasing the EP, numerous magazines and radio shows have taken notice of the group. They have been named on various "artists to watch" list from Radio X, All Things Go, Paper Magazine, Idolator and Earmilk. They've been featured on Sirius XM's Alt Nation's "Advanced Placement" with "Stuck" and played with other indie bands at the major festival SXSW. They've also played at Austin City Limits. But despite their growing world-wide recognition, the women haven't forgotten where they got their start. They're still playing shows at Velour Music Gallery and, even though a video for their song "Baby Who" wasn't in the contract with Red Bull, they decided to shoot one themselves (directed by drummer Alisa) in their hometown of Orem, Utah and showing themselves "in their natural habitat," so to speak. The video showcases the girls rolling down hills and riding skateboards with the magnificent mountains that they love as a background for the cinematography (which was shot by their friend Abdiel Ibarra). The premiere of this video was released by Refinery 29's "The Drop," which features and champions female artists.
Being a young female band comes with a few hoops that male bands don't have to jump through. In an interview with Paper Magazine , Cristal and Alisa talked about how some of the things they have had to deal with not just because they were an up and coming band, but because they were an all-female band. They also spoke about it in the above-mentioned article with EUPHORIA—one of the questions that they have been asked is if they can play as well as a man. Of course, they can! As Alisa said to Paper, "What are you talking about? I can play just as good as any guy – or better. What does that have to do with anything?" They also spoke about the times they would play in battles of the bands and they'd be laughed at or even dismissed by the male bands. But when they'd subsequently win the competition, the male bands would take notice. Why didn't the male bands think the girls could be good? It's a stigma and a problem within the music industry and it's something The Aces have stated they would want to change. On a similar note, the band takes care to mention that the story of how they formed is absolutely true – they didn't audition in a talent competition and they weren't placed together by music executives. They formed like many other male bands do—they came together as a band because of a mutual love of music.
But they do like being a role model for other girls to follow. When young girls see that females can be in a band, they can be inspired to follow their own dreams, too. The Aces have been featured on some pretty cool female playlists, though, which honor women in music such as the Nike Women Running Tempo playlist with their song "Touch." Plus, they are the cover track of Spotify's #WomenCrushEveryday playlist, which is dubbed as a "new favorite fierce femme playlist" with single "Stuck."
And maybe one day there will be a time when everyone will look at them as a band first, all-female second. And not just "a band"—a great band. For now, find out more The Aces on their website and follow them on Facebook, Twitter and Instagram. You can stream their music on Spotify, Soundcloud and iTunes. The band is heading out on tour  this November with Joywave. They will close out their year playing The Next Big Thing music festival in Tampa, Florida, with bands like The Lumineers and XAmbassadors.