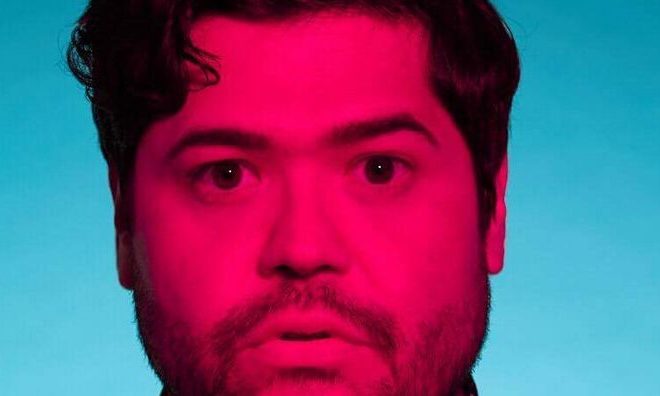 Photo: Corrina Marie/Makeup: Laura Young/Hair:Rene Rosales
Interviews
The Many Faces of Harvey Guillen
By
|
By: Lisa Steinberg
Q) It's been nice getting to see you recently in quite a variety of roles.
A) This summer has been a nice variation of putting on the various "faces of Harvey." One day I'm in tights as a superhero and the next day I'm a high school student who is very endearing and quiet, but the butt of the jokes with a heart of gold. The next day I'm the smart-alecky class clown in a college horror film that comes out in a few months for Syfy. Then, I go up to Canada to film "The Magicians" where Benedict is so precise and perfect because all he knows is structure. In that same token, he's building up so much inside since he's always having perfection projected and expected for him. It's a cool rollercoaster for an actor to do and I'm so blessed and happy to do it.
Q) There are great layers to these characters as well, but you manage to add your own spin to them.
A) With Benedict, they brought they brought the character in last season (but in the books he comes in much later) and sprinkled him in. The writers this season are so cool and I think his story is so awesome and the direction they are going with it is so cool. I'm really excited for people to see it.
Q) We saw you work with Penny mostly last season, but we hope to see him with more of the cast.
A) This season we'll also be taking adventures on the Muntjac. If you've read the books, that's coming up. I can't wait for you guys to see the boat and the interior. It's amazing! It's like a fairytale come true. I was on set and I think I was looking at Brittany [Curran] when I said, "How lucky are we that we get to come to play every day and we're in this fantasy world? We were just so giggly and happy because we felt so lucky to be on this journey to bring these characters to life.
Q) I know you did a photoshoot recently. Is this something you are in front of or behind?
A) It's just a really great photoshoot with did with a wonderful photographer. We played with colors and stuff. One of the setups we did was different faces. It's a portrait style and me in front of a blue screen. Then, my whole body and face has red gel that way all the facial expressions pop out. So, when you put them all together it stands out kind of in an Andy Warhol kind of way. It's kind of like the many faces that I get to do with doing what I love. That was kind of the angle of that photoshoot.
Q) Is this a new way for you to express yourself? Are you always looking for ways to push yourself creatively?
A) Absolutely! I'm always looking for ways to really kind of further my craft and "what else." My mentality is "yes, and?" So, where I'm diving into writing more this season. I just wrote a proof of concept for a movie idea that I have had for a while. The trailer is done for it and it was shot and directed by Jamie Holt. I was very adamant about having a female director because there is a very small number in Hollywood and I'd like to change those numbers. I want to change the way minorities and women are seen in television and film. It was very important to me to surround myself with a team that believed in that message. Going further with projects I am writing, producing and directing it is very important to show diversity and the importance of putting people in positions where they thrive and not just because it's traditionally been done by a man or roles done traditional by a 6'2 blonde blue-eyed Adonis. It's changing the way we perceive people and in things in Hollywood where they say, "That's not how it is done here. So, you can't do that." It's the way that plus sized guys are seen and plus sized women. With guys, it's always the comic relief. I've played those, but I also see them as leading men and heartthrobs and sexually desired. Sexuality comes from within. It isn't defined by the body you are in, but by the mentality and the way you carry yourself.
Q) We have seen you on "The Thundermans" where you play a superhero that doesn't fit the mold physically of one. Uncle Blobbin isn't just there for the joke either.
A) I do my own stunts on "The Thundermans." Our Stunt Coordinator is great and he will tell me, "Harvey, you do some of the stunts better than some of the stunt guys I work with." You assume that a guy who is bigger can't do their own stunts or are fragile, immobile or not athletic. While I'm not going to jump off an eight-story building without a harness, but when it comes to doing my own stunts – I did it. You can be a superhero at any size. You are a superhero at any size. Because you are Latino doesn't mean you always have to play a gangbanger or the custodian. We're breaking the stereotypes because that's not the norm and not the regular world we live in so why is it being portrayed that way on film? Even when I did the Lady Gaga video – it was uncomfortable for me to do that because it was such an intense scene and I'm the total opposite of that. It must have been one of the hardest moments for me because it was playing someone I completely disapprove of and becoming that person for a couple moments to portray the story was really hard. It takes a toll on your emotions and your body. As an actor, you are supposed to dive into the role, but it's also like don't dive in without having restraints because it's scary.
Q) Speaking of stepping out of stereotypes, we've seen "The Magicians" the past couple seasons where they were not afraid to be funny, but also dark. I know you have another Syfy project as well
A) "Truth or Dare" was shot in Birmingham and that has a great cast. I'd never done a horror film and that was another thing on my checklist. When the opportunity came up, I dove right in. I had to do the movie because it is fun. They're in college and he's a jokester, but he has a terrible secret. So, there are always layers. People can always say, "I'm going to be the comedian" and play a one-dimensional role, but the great comedic characters have layers. I loved the story with this with the secret he has that he has been keeping from people and that secret ultimately determines his fate.
Q) What was the most challenging part of being in this film?
A) For me, it was the fact it was a horror film and there is going to be terror and horror left and right. It was being in constant fight mode. The story takes place within forty-eight hours so to constantly be feeling the fear of being watched and chased and bad things happening all around was kind of a different experience. Cassie Scerbo and I had a scene where we had to do something really terrifying. We had to move on to a different scene and that scene was shot a week prior and we'd have to go back to that place. We'd be physically and emotionally exhausted since stuff was happening to our friends. Getting into that moment is kind of draining. We'd go home and go straight to bed because we were so drained. Sixteen hours of being scared and frightened can take its toll on you.
Q) Syfy always does a great job of making the setting and cinematography as being a character in the project as well.
A) Syfy has been great with that. Even with the movie, I was so impressed shooting in Alabama where they found this beautiful Victorian home that was from the 1890's. You put in a couple of cobwebs here and there and old-fashioned furniture and that place is spooky! [laughs] It puts you in the mood. I remember walking on set and thinking, "I feel like we're shooting a horror film. I feel like when you have the actor here and you become the character it will be easier for you since once you are in costume and the setting…" It takes a village to make it come together. The shoot just felt so real. If you got caught in a part of the house by yourself you'd get goosebumps. We were pretty sure that place was haunted naturally. [laughs] Any noise would make you go, "What was that?!" We could run for help or safety any time. We were pretty scared. Also, with "The Magicians" that brings it to life. When you're in the castle in Fillory, that castle is beautiful. I remember walking on to that set for the first time. That castle is probably one of the most beautiful sets I've worked on because of the lightening and the set decoration. The way they've done everything…It's the attention to detail.
Q) There is such a great balance of heart, humor and love and lessons on "The Magicians." Talk about the writing behind the show that allows the actor to soar.
A) The writers are amazing! I've gotten to hang out with the writers a couple times in the writers room in LA. They have Four Square night where they get together. The work all week and then have one night where they get together and play Four Square. They brainstorm and it's good to hang out and just take a breather, but it's great for them also because they get to know the actors and get to know their personalities and strengths. You would be surprised people don't know how many talented people we have on set. Hale [Appleman] is an amazing singer. And people didn't know I sang until recently. So, it's good to mingle and get to know each other. And the writers are so funny! Sometimes I think, "Why aren't you guys on the show? You guys are hilarious!" Of course, they are because they are the ones who are writing these amazing scripts where they bring heart and comedy into every episode. They are so good at writing for the actors and the way they write for them just blows it out the water. I think about that all the time. When Hale does his lines, it comes out so naturally because it's him. I love the way Margo (Summer Bishil) is written because with Summer, that's it. It pops out in the timing and the setup of the jokes. It's just great!
Q) I find myself gravitating to something about each character.
A) there is definitely something about each character that you like to tap into their storyline because you are invested and there is something about the character that you are drawn to. That's a cool element about "The Magicians." There is definitely something about each character that viewers are drawn to. It's just nice to know you're in for the whole ride and there for all the characters.
Q) Is there an update on your film Status Update?
A) The last update we did was finishing ADR and I think it was picture locked. Now, they are just going through the whole thing for distribution. I'm not 100% sure, but I'm pretty certain it will get distribution or go to Netflix or DVD. I think they are looking at the opening dates for theaters, but you never know. I started a movie like in Toronto three years ago and we just finished ADR for it last week and it's coming out guaranteed this Spring! So, I had literally given up hope on that movie. Sometimes you may do projects that are fully funded with a great script, but then they do the pickup dates and the movie isn't completely finished. Time goes by and then the actors aren't available. Before you know it, it is two years later when they get that actor available and they aren't long-haired anymore. You'd be surprised how many movies are made that don't see the light of day. That blows my mind! I think with "Status Update" they are just thinking of when the perfect time is to release it.
Q) Is there anything else you want to be sure fans know about what is to come from you?
A) I'm really excited to announce my collaboration with Rik Villa from "Project Runway." We're working on creating a plus sized men's clothing line. We just announced the bomber jacket we introduced. We're going to start collaborating to do pieces so it will be a time lapse throughout the next year. I'm so excited to do that! It's somewhere that plus sized men can go to for cute and affordable pieces that feel like one of a kind!