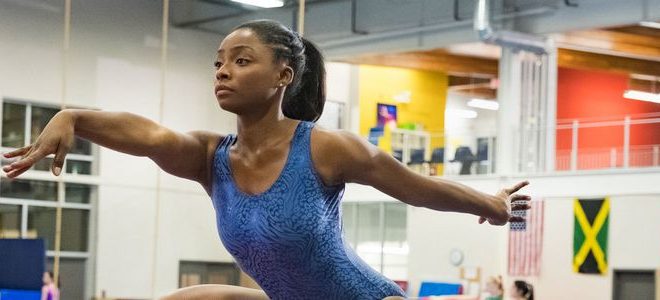 Movie Reviews
The Simone Biles Story: Courage to Soar
By
|
By: Ashlee Dell'Arciprete
The 2016 Rio Olympics made Simone Biles a household name for her strength and power in gymnastics on and off the mat. The truth is that she had been breaking milestones for years before and has finally gotten her own Lifetime movie documenting her journey!
The new Lifetime movie The Simone Biles Story: Courage To Soar documents Simone Biles' story of how she got to the Olympics. The film starts off with Simone at six-years-old when she starts playing around in a gym and is spotted by a coach. If you've been following her career, you'd know that coach when she was six is who helped her win gold at the Olympics. The film then tracks Simone's (Jeanté Godlock) many triumphs and hard times of her career. What you may not know is that those hard times were pretty tough. Simone's mother was a drug addict and Simone ended up being raised with her siblings by her grandparents. Luckily, she had very strong, caring grandparents to raise her. Through this, Simone attempts to overcome all of these personal obstacles to eventually make it to the Karoyli Ranch, and later, the 2016 Rio Olympics.
Overall, the film was great at detailing several parts of Simone's life that you may not have known before. Most notable was Simone's birth mother's addiction, but it was amazing to see that Simone had the ability to not let that get in her way. She also struggled with having ADHD and a lack of focus while at the gym. Not only that, but as a gymnast you have to make a hard choice to either take sponsorship money and be the next girl on the Wheatie's box or if she wants to compete in college gymnastics she'd have to throw that all away. In the end, as you probably already know the story, Simone went on to win nineteen Olympic and World Championship medals. In the film Simone was able to cross off several goals. Simone then created her next one – competing at the Tokyo 2020 Olympic games. We're excited to see where she goes next!
What makes The Simone Biles Story: Courage to Soar wholeheartedly an enjoyable film is the family aspect. Simone may not have her birth mother around, but she did have her "parents" and they were a great support system along the way. Throughout the film there's several comedic moments, like from her parents Ron Biles ( who is played Julius Tennon, married to Viola Davis from "How to Get Away with Murder") and Nellie Biles (Tisha Campbell-Martin, "My Wife and Kids"). Also, it was great to see Simone's younger sister Adria (Raven Bowens, "The New Edition Story") help make the film a great family affair.
The biopic was directed by Vanessa Parise and is based on Simone's book The Simone Biles Story: Courage to Soar. The directing in the film is great and Parise is able to seamlessly integrate the action scenes by Jeanté Godlock with Simone's actual routines from her competitions. It is overall a great film for the family that can inspire anyone to never give up on their dreams.
Grade: A-