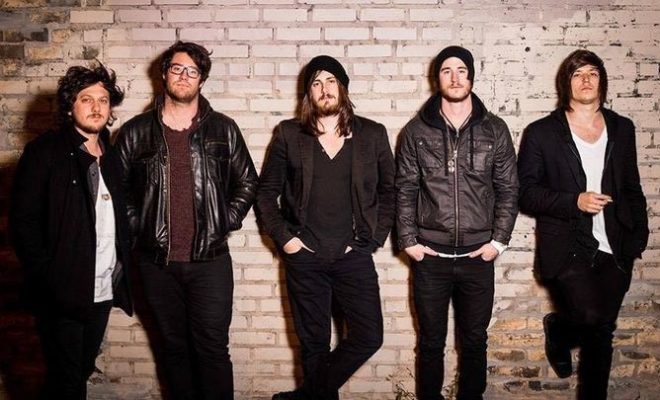 Interviews
The Unlikely Candidates: Not So Unlikely After All
By
|
By: Lindsay Flanagan
Formed in 2008 in Fort Worth, Texas by two juvenile delinquents, The Unlikely Candidates are, actually, likely to become one of the most authentic sounds in music today. Driven by good old guitar rock, life-lesson lyrics and a voice that sounds just as good live as it does on the album (and perhaps sounds even better raw), the quintet of twenty-something black-clad guys are poised to take the rock world by storm. But they didn't have an overnight success, which is probably why their music sounds—and is—so genuine.
You did read correctly that the band was formed by juvies. Kyle Morris (vocals) and Cole Male (guitar – and who for some reason looks like a relative of James McAvoy or perhaps that's just me) met in juvenile detention after they took joy rides behind the wheel of another person's car. No, not together. They each stole a car and met after having been, well, punished for doing so. Ah, fate. So, not only did they connect because of their crimes, they also shared a love for rock music. Ending up in the same high school after they were released they decided to form a band. They couldn't play guitar. They didn't even know if they could sing. But instead of devoting their time to crime, they devoted it to learning and writing music. I think they made a good choice.
After they graduated high school, Morris enrolled at Texas A&M University, but eventually dropped out to pursue music. Post life-altering jaunt to Europe, he reconnected with Male to continue making music and they formed The Unlikely Candidates. They recruited Kevin Goddard (drums), Brenton Carney (lead guitar) and Jared Hornbeek (bass) and by 2013 had gained the attention of major-label Atlantic Records. They signed with Atlantic and released their first EP Follow My Feet. The title track of the EP is an observation about how bad people seem to get ahead, but good people get left behind. So, the lesson is to follow your feet—or your heart, or conscience—and keep doing good. The title track "Follow My Feet" received heavy airplay and charted at number 35 on the Billboard Charts. Not bad for two kids who chose to teach themselves music instead of—well, instead of getting into juvenile delinquent trouble.
The Unlikely Candidates' appeal comes from almost every facet: poetic lyrics and the genuine rock sound that other young bands lack. Dress it up with five guys who wear black like Johnny Cash, drink more than the average guy and still manage to sing and play crazy good and you've got the makings of future legends.
With the success of "Follow My Feet," The Unlikely Candidates ("TUC") began touring and appeared with bands like Fallout Boy, St. Lucia, Nothing But Thieves, Weathers and The Moth & The Flame. They've also played big-time festivals like Bonnaroo, Firefly, Riot Fest and SXSW. But things started to unravel for them when they weren't receiving the support they needed from their label Atlantic Records. After a year of battling with the major label and an unreleased follow-up to their EP, TUC and Atlantic amicably parted ways. Fortune seemed to smile on the band, though, as they were noticed by the Sony Music affiliated indie label Another Century and entered into a new deal.
With Another Century backing them, they released their follow-up EP Bed of Liars in February of this year. It contains two previously-released singles (in 2016) "Your Love Could Start a War" and "Ringer," along with four brand-new tracks just waiting to rock your world. "Ringer" has gotten in-store play with brands like Whole Foods and Guess Jeans. TUC has started 2017 with a bang on the road (no, no, not stealing more cars), kicking off a tour in February with dates filling their schedules until June.
Even though the band is incredibly busy, Kyle Morris was nice enough to take some time to answer a few burning questions regarding their past (not the shady past) and the new EP.
Q: You parted ways with major-label Atlantic and subsequently signed with indie-label Another Century. Was staying indie something you felt was important and necessary in order to continue making your music and getting it out to the world?
TUC: The beautiful thing about Century is that it is an indie label that has the backing of Sony. So it's the best of both worlds. They can be much more hands on, but still have the capitol [sic] to do what they need to do. It's also easier to get out music, because they love what we do and it does not get lost in the mix of a big roster.
Q: You guys have toured with Fallout Boy, The Moth & the Flame, St. Lucia and many others. What one band would be your "dream" tour mate?
TUC: We would love to tour with The Strokes, Kings of Leon, Cage the Elephant or The Gorillaz. They are some of our favorite bands and our energy would probably compliment theirs.
Q: Besides music, what other hobbies do you have? Specifically, what do you do in order to rejuvenate your creativity?
TUC: We are all really into movies and TV, some of us are into gaming, pretty normal stuff for the most part. I like to read. I would say that having those distractions help to lend some color to our emotional and music palate. They also let us recharge after long road trips.
Q: What is your favorite venue? Do you prefer playing festivals or club shows?
TUC: I really enjoy playing the Black Sheep in Colorado Springs, we always have amazing shows there and the sound is fantastic. It's also fun playing in our local bar The Chatroom Pub. Everyone is drunk and having a great time. There is not [sic] stage so everyone makes a circle around you and the bathroom is on the side of the "stage", so people are walking in and out. It's an odd venue which makes it interesting. I like club shows, more intimate and usually and more crowd interaction.
Q: What advice do you have for people who want to form their own bands?
TUC: Be prepared to practice all the time, play hundreds of shows mostly to no one and write a song a week.
Q: Can you tell us a bit behind the title of the new EP Bed of Liars?
TUC: It's a record steeped in human messiness and relationship conflict. The title sort of plays that, paints a picture of two people in bed. Close to one another, but still in their own little world with their own lies, secrets, and problems that that other person may never truly understand. And yet, they wake up together and live themselves and each other another day.
Q: This question is for Kyle and Cole: How did you guys learn music? Are you self-taught? Did you take classes?
TUC: Self taught the both of us. We each took two lessons. Cole learned tabs and I sang in the shower.
Q: This one is for Kyle: You have been cited that you love Keats and Shakespeare, and that your favorite musicians are lyrically-based, like Bob Dylan. Is writing the lyrics your favorite part of the song-writing process? Do you usually write the lyrics first, or do they come after the melodies have been written? Does it just depend?
TUC: It's the part that I place the most emphasis on. I want to be told something that will illuminate and enrich my own life. That's why I loved lyrics. Music and melodies can move you, but words can really change you. I usually make the melodies first so I can make sure the words fit in them well. You need both to work together if you want a great song.
Q: Another one for Kyle: You are book nerd, which is really, really awesome. (Fellow book nerd here.) I read that you practically take an entire library with you on tour. Is there one book you always take? One you can't live without?
TUC: I used to take my complete book of Keats works and letters with me, the book started falling apart so I got the audiobook. His poetry takes me to that colorful romantic intoxicating sticky world and reading a bit of that can put me in the right mood for a show. So I used to carry that one around.
You can find out more about the band, purchase their music, and find their many upcoming tour dates on their website and Facebook. Connect with the band on Twitter, Instagram, and Snapchat @TUCBAND.
Follow My Feet Track Listing:
Follow My Feet
Howl
Just Breathe
Home
Trampoline
Bed of Liars Track Listing:
Best Things in Life Aren't Free
Ringer
Your Love Could Start a War
Violence
Call My Name
Reaction