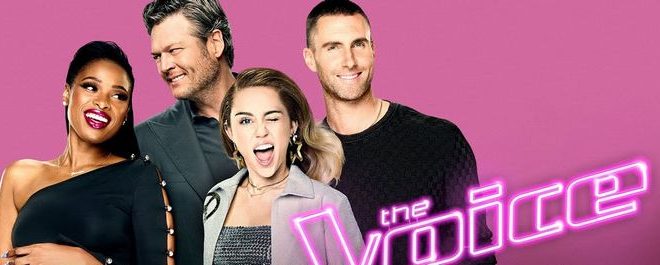 Interviews
The Voice – Season 13: Audition Night Six
By
|
By: Jamie Steinberg
Q) Michael, looking at your Facebook, it appeared to me that you performed previously with Amber Carrington and Carolyn Glaser from The Voice.  I was wondering if that had anything to do with your decision to try out for the show and they had given you any advice about The Voice.
Michael Kight:      Yes, it definitely influenced it.  I started playing with Amber right after she got off the show, senior four, and Carolyn was the same season.  And I was playing with Amber in Nashville.  And then she introduced me to Carolyn and I ended up playing some gigs with Carolyn, going on tour with her.  And they just always encouraged me to keep singing, and do my thing, and pursue my artistry.  And they were super pumped when I told them that I was doing it. So yes, they definitely influenced it and they've gotten a lot of good things from it, and they grew so much as artists from it.  So just seeing them as an example pumped me up.
Q)  Right.  Any other Voice artists you worked with?
Michael Kight:    Yes, I've had friends.  I had a buddy that went to the battles in Season 5.  I knew the Swon Brothers from that season.  But mostly Season 4.  I don't know a lot of people from other seasons. Yes, that was just an interesting time.  I just met a lot of people from that season around that time and just was working with people in Nashville.  Cool timing.
Q) For Kristi and Megan, you both were under a lot of pressure to choose a different coach than you ended up with.  Like Kristi, Adam, Jennifer, and Miley kind of all teamed up so that you wouldn't pick Blake and Megan, Adam begged for you to not join Miley's team.  So I guess what was going through your minds while the coaches were fighting for you and were you almost influenced to choose differently.  And we can start with Kristi. 
Kristi Hoopes:     I have to say that was one of the hardest decisions I've ever made in my life, but I think what was most important for me was not only picking a coach that was going to give me the best insight, but also the coach that would be able to kind of help my career along after the show is over.  Because The Voice, it's on for a couple of months and then it moves on, but your career still is blooming and flourishing. So I was really focused on what happens afterwards and how can I keep the train rolling.
Q) And how about you, Megan?
Megan Rose:   Yes, it was definitely a very hard decision.  I was super torn the whole time and I remember just sitting there, because I really couldn't — I couldn't decide who to choose.  And so I just remember sitting there in Adam's chair and I was like, I kind of like — I said a little prayer and then I was like, all right, God, give me a sign.  Who am I supposed to pick?  And I think when Jennifer chimed in a little bit and was like, "Yes, it's so powerful to have an all-female team," I kind of took that as my sign and also, along the same lines as what Kristi said, thinking about your career afterwards, and after the show, and who can help you along in the best way.  And I think that Miley is definitely able to do that for me.  She's got those country roots and she knows a little bit more about country music than Adam.  So that also influenced my decision.
Q) For Megan, you mentioned as a California girl, you have trouble finding places to play country music.  What was it that drew you to country music and who are some of your inspirations? 
Megan Rose: So I actually grew up on country music.  My dad is the one that introduced me to country music and some of my inspirations are Martina McBride, Carrie Underwood, right now, Maren Morris is a huge inspiration of mine.  Chris Stapleton.  I love Eric Church.  A lot of people that have that like the rasp and kind of like a bluesy tone to them as well.  Those are just really big inspirations of mine now, but growing up definitely, Carrie Underwood and Martina McBride I would say are my top two inspirations.
Q) For Gary and Michael about joining Adam's team.  I guess let's start with Gary.  Whose team had you been hoping to join heading into your blind audition and did you know at the time Adam was the only coach with a spot left? 
Gary Carpentier:  Yes, initially the coach — I really wanted Jennifer because I think with her power and her precision and expertise with being on the reality kind of scene, I really wanted to pick her brain but I grew up a giant Maroon 5 fan like I think a lot of us did.  So that was — I think I landed right where I was supposed to be, to be honest. But yes, going — I had no idea how many spots were left.  The only thing I wanted to do in all that preparation, I didn't care if I got a turn or not.  All I wanted to do was sing.  I just wanted to perform and just make sure that if I didn't get a chair turn but I did my very best than I was going to be okay with it.  But I'm just, I'm really happy the way it turned out and hopefully things will get — they go well moving forward.
Q) And Michael, the other coaches were intimidated to turn around because you chose a Maroon 5 song to sing to begin with.  Would there have been any chance you'd choose a different coach if more than Adam turned around for you?
Michael Kight:    It was interesting doing his song and just — I kind of had that fear going out there like oh gosh, I'm doing his song.  Is he even going to turn around?  And so I felt pretty good about the arrangement and everything.  But I thought it might be cool to be on any team.  I imagined being on Adam's team for a while just because like Gary, I'm a huge fan of Adam, Maroon 5.  And I don't know, I didn't know what was going to happen so I went out there with an open mind.  If any chair would turn, I'd be super happy, grateful. It would have been interesting to be on another team but I think I'm exactly where I need to be and I think Adam, I think he just got what I was doing.  He understood it and he felt confident about it.  And so that to me spoke volumes and I think that's where I was supposed to be.
Q) Jeremiah, it seemed like you picked Jennifer because you bonded over your faith.  I guess is that accurate to say or were there other things that influenced your decision as well and what's your reaction to Jennifer comparing you to Nick Jonas and Justin Bieber?
Jeremiah Miller:          Yes, going in there I was really — I always wanted to pick Adam just because I've always been a huge fan of him and our styles are similar. But going in there, I was dedicated to picking the coach that was most devoted to me, and most devoted to my style, and my artistry.  So going in there, I felt like Jennifer was pulling me closer to her and yes, the faith, that did make a huge impact on my decision but overall, I did feel like Jennifer was more devoted to me.  So that was a big reason why I chose her.  It was awesome that she compared me to Nick Jonas and Justin Bieber just because those are artists that I look up to and people that I am striving to become, artistry wise.
Q) Megan, while it's definitely moving and powerful to be a member of an all-female team, I guess are you intimidated by that at all?  Do you think it raises the competitive aspect of the show a little bit considering you're against all females rather than some men mixed in there?
Megan Rose:   I'm not intimidated by it being an all-female team just because there is that sense of — I don't know what the word I'm looking for is — but there is that sense of empowerment and we all lift each other up.  And either way, no matter what, the teams get (unintelligible).  So either way, it's going to be cut down and I don't know.  I guess I don't look at it as more competitive being an all-female team.  I think personally, I look at it just as being just as competitive as a co-ed team.
*CONFERENCE CALL*