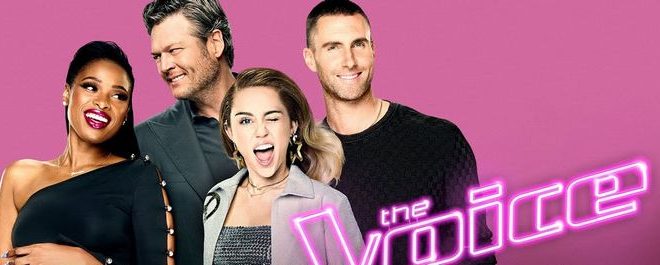 Features
The Voice – Season 13
By
|
By: Yael Tygiel
Season 13 of "The Voice" premieres on Monday, September 25, 2017 and everyone's excited to see how Jennifer Hudson will do as the newest member of the family!
Right off the bat it's clear that J-Hud (as she's calling herself) is a force to be reckoned with! This may be because, although she's new, she's not new-new. Executive Producer Audrey Morrissey says Hudson is the first coach who has been a coach before and that "she has experience even though it's her first season with us."
Hudson's time on the "The Voice UK" played a part in her joining this season, but Morrissey swears Hudson was on their list, adding, "She has a relationship with NBC, having just done Hairspray – she's was kind of like, top of mind, in the fold, kind of close by… It just seemed like great timing."
Morrissey explains that while of course Hudson brings her amazing singing voice, she's also "someone who has won so many different awards" and is "a person who has been in their position before." Morrisey wants to remind viewers that the Grammy, Golden Globe and Oscar winner first burst onto the scene as a contestant in Season 3 of "American Idol," making her "the first coach who has ever been on one of these shows – she has that extra special knowing of knowing what they're feeling and knowing what they're going through. That carries on through the season."
As for what viewers can look forward to this season, Morrissey tells us, "We have a lot of big voices this year and Jennifer's team gets a lot of big voices, as you would expect. Adam [Levine] has a very eclectic team. Miley [Cyrus], her sort of pro-female stance plays out in her team. Blake [Shelton] definitely has country, as expected, but some other people get some big country voices. There are lots of surprises, that's for sure."
Hudson's scene stealing ability is pretty clear from the premiere episode as she draws audience, as well as singers', focus away from the Blake & Adam bromance that has brewed over the years. The first performance starts the season with a jaw-dropping and shoe-throwing, power that sets the stage for this season. The first auditions debut some singers who are destined to be fan favorites.
As with most episodes of "The Voice," this premiere is full of heartbreaking stories of hardship, like losing a family member or battling cancer, alongside beautiful stories of overcoming obstacles and embracing your true self.  With only two singers not getting a chair turn in the first episode, we are in for some extremely phenomenal voices in Season 13.
Season 12 winner Chris Blue was on hand to let fans know about what he's been up to: Alicia Keys, who was his mentor on the show, has not only kept in contact with Blue, but she "has been hands on" with him since the finale. Additionally, Blue is now managed by Keys and her manager Johnny Wright (who also managed N*SYNC as well as Justin Timberlake).
As if that's not enough, Blue has signed with Republic Records and had three sold out shows, which he says "sold out in fifteen minutes." Aside from his professional career, he adds, "My fiancé, who was on the show last season, is no longer my fiancé. She's now my wife, we got married.  It's been a lot going on that I'm really, really excited and happy about. And I have 'The Voice' and Audrey [Morrissey] and the whole team to thank for that."
Season 13 of "The Voice" kicks off with blind auditions Monday, September 25th on NBC at 8pm ET/PT!