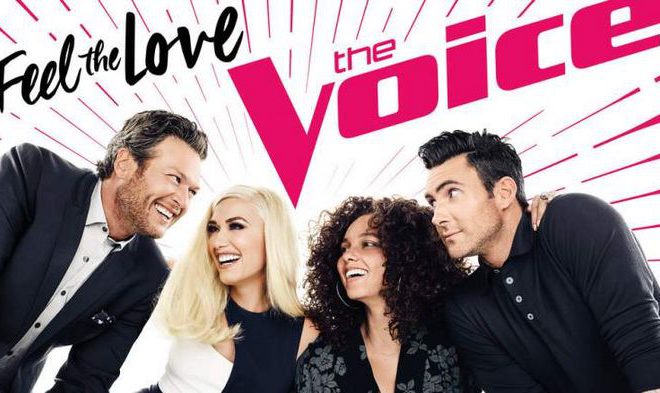 Interviews
The Voice – Voice Premiere Night Three
By
|
By: Jamie Steinberg
Q) For Ashley and Julien,  I was hoping each of you could tell us in a little bit more detail what you've done musically prior to The Voice?  And Ashley, ladies first so if you could answer that question?
Ashley Levin:     So I have been singing my whole life.  I started when I was so little I can't even remember.  I started playing piano.  I sung in choir like my entire life mostly classical choir when I was little but then I started to do musicals in elementary school.  I went to a fine arts school for middle and high school.  I did all kinds of stuff.  I sang in the jazz choir.  I did musical theater and I always listened to country music and R&B and soul and everything I could get my hands on. And then I actually was one of the eight singers chosen for the Grammy Foundation Jazz Choir my senior year of high school and I did that and that kind of opened my eyes to everything I could learn through Jazz and what Jazz had to offer.  So I auditioned and was accepted and ended up going to the University of Miami for jazz vocal performance and music business.  And I studied there for four years and graduated this past May which was such an amazing experience so I got to gig five six days a week around Miami and it's a huge music scene here.  I got to country funk soul jazz everything.  And then at school I was in a ton of ensembles.  I was in a song writing ensemble because I've been song writing since high school and I got to do that and perform with different musicians like throughout the music school and all around Miami.  And then right after graduation I spent the summer in Miami playing and working and writing and then I decided you know what it's time to move to Nashville.  So I moved to Nashville this past September and have been, you know, just taking meetings and doing a lot of song writing sessions and gigging and just doing that whole thing.  So that's pretty much my musical history.
Q) Okay and while you were in Miami were you performing as a solo act or as a part of the group and what would you say your biggest performance was before  The Voice?
Ashley Levin:        When I was in Miami I was definitely in multiple things.  I was doing a lot of my solo song writing like my original music I would go out and gig and do that kind of stuff.  Sometimes I'd be like a feature vocalist with different bands in Miami that were playing and then I always did all of this with school which was either being in like a song writing ensemble where you get to perform your own music or being in the classical choir or being part of the jazz vocal choir ensemble.  So I kind of had my hands in everything that was, you know, out there and available to me.  And as far as my biggest performance before The Voice I definitely say it's either performing at the Grammys with the Grammy Jazz Choir my senior at high school or probably one of the performances I did at UM with the Jazz Vocal Ensemble.  We got to sing with Gretchen Parlato, Esperanza Spalding like huge artists that would come in for our artist week and that kind of stuff.  So those are definitely the highlights.
Q) Julien, that same question. A little bit of background yes a little bit of background on what you've been doing musically prior to the voice.
Julien Martinez:   Okay well grew up basically like learning how to play the piano.  My grandmother actually introduced me to music really.  She introduced me to Neil Diamond and The Doors who have been a huge, huge influence in my musicality and I represent myself as an artist.  After that just started listening to a bunch of her records and singing and practicing like that.   And then when I was in high school a drama teacher of the high school came up to me and said hey a few of your friends have said that you sing really well I really would like for you to just come and audition for this play that we have going on and it was Sweeney Todd.  I said okay.  So I showed up and I auditioned I sang Happy Birthday.  And I got a part in the ensemble and just started doing musical theater from there on and I did that for about four to five years.   Then a good buddy of mine who I met in eighth grade came over one day and was asking me hey do you still sing?  I still play guitar like we should definitely like start jamming together.  So we formed a little bit of like a garage band almost and practiced in the garage every weekend and, you know, like, you know, we should probably start playing shows where if we're getting so good.  And I said yes.  So we started playing in dive bars I mean nobody was there and just worked our way up and we've been doing it for the past four years ever since and now I'm on The Voice.
Q)   Yes what do you call your band and do you perform under your own name under Julien Martinez?
Julien Martinez:    My band's name is called The Road Brothers and I do not perform under my own name.
Q)    Okay so what band do you perform under normally?
Julien Martinez:    The Road Brothers.
Q) For Quizz and Brandon, each of you I was wondering what prompted you to audition this season and if we could start off with Quizz please?
Quizz Swanigan:   I'm not sure what you just said I kind of like kind of got disconnected a little bit.
Q)   Okay what prompted you to audition this season?
Quizz Swanigan:   Oh well so I love The Voice I've been watching it ever since like the first season and I had heard that they had lowered the age to 13 and so I got my – they emailed my dad and they were like hey we – it would – if could it be cool if I could audition?  And I was like yes of course The freaking Voice, I love The Voice.  And so I got to audition and I did my – I – my (technical) auditions and I – they said that I did great and I loved it and they loved it and I – now I'm here.
Q)  Okay and now you're on a show with singers who have been doing music since before you were born how does that feel and is that intimidating at all?
Quizz Swanigan:   It's a little intimidating because it's like they've been singing their years of experience have – are nothing to the amount that have been compared to the amount that I've been alive the years that I've been alive.  And it's kind of like, how am I supposed to compete with these type of artists that are just amazing, and I don't know half of the things that they probably know.  And it's kind of intimidating but I feel like I have a talent and that God has put me on this earth for that reason, and I feel like I'm just doing what I was supposed to do.
Q) And Brandon?
Brandon Royal:    What actually prompted me to audition was my girlfriend.  I came home from when I was home at work from work and she came home after and she was done with work and she came home with this paperwork for me and she said, "You're going to go to Atlanta this day your tickets are booked you're going to audition for The Voice."  And I said, "I guess I am if you did everything."  She filled out everything she bought the tickets everything was set and she was adamant about me going to do it.  So that's what really got me up off my butt to go audition for The Voice.
Q)  But in your audition package you said you hadn't been on the stage for five years.  Had you been doing anything musically?
Brandon Royal:  Yes after I left the Virgin Islands I haven't I mean I recorded music and tried to get music together but the people I was working with doing the music it didn't pan out they just pretty much dropped the projects we were doing.  So I pretty much hadn't performed anywhere or other than like karaoke nights or anything like that for about five years since I left.  So that was my first time hitting the stage in about five years for the blind auditions and that's a pretty big stage to start back singing on.
Q) It sure is but it all worked out pretty well didn't it?
Brandon Royal:     Yes it worked out pretty well.  It was a blessing man and it's a real blessing to be here and to perform in front of four coaches who are legendary it's just mind blowing you can't believe it.
Q) Brandon, when the coach or when the coach was turned around you didn't seem overly excited were you – is that because when you're trying to maintain your composure or were you nervous?
Brandon Royal:     I thought my face told the whole story but I guess it didn't.  It was believe me it was an explosion inside.  I had to try my best to contain it because in the moment when you're singing and you're on stage and you see that chair turn around and the floor lights up it's like wait a minute hold on a second this is really happening because you got to understand for all of us here this is a dream come true for us.  We all want to be musicians we all want to make singing our main careers.  We all want to be famous known for doing great music. So at that moment when a musical legend turns around and they say to their self that they want you on their team it's like I said an explosion inside happened I just had to try my best to contain it and smile it off I guess to be able to finish the song and get through the rest of the audition.
Q) Julien, with your audition I noticed like that turns towards the end you act like you like turned kind of towards the end I remember were you starting to prepare yourself in case if no one turned around or what were you thinking?
Julien Martinez:  I went into this audition basically kind of like I'm going to do the best that I can for myself like I've gotten myself to this point I'm going to do everything that I can and when they weren't turning around it just kind of put more fuel to my fire and I was just like you know what if I can just rock it out like I'll be good and then I let out that (breath) of satan as Adam said scream at the end and they turned and it was amazing like yes.
Q) I mean I know he was just joking but do people usually react that way that your voice doesn't match up or how do people normally react?
Julien Martinez:    A pretty typical reaction to my voice.  I've had some people walk into bars like coming around the corner and they're like wow I didn't even know that was coming out of you and like I would have not expected that like I was expecting some big guy with a beard and (bubble blond) and I'm like no that's me.
Q) And what was the motivation for choosing Adam?  You chose Adam correct?
Julien Martinez: Adam because we both have ADHD and I felt like since we both have that thing then we can actually talk about it and like I could get some tips from him on how to keep pursuing music and be successful even though we have like this, it's not really a disorder, but I mean it's an impairment almost on top of the fact that he's very diverse in music right now.
Q) For Casi, by The Voice standards you've already released a good deal of music.  I was wondering how you would say your music's evolved over the years?
Casi Joy:    Yes my music has definitely evolved my whole life so I started singing when I was 5 years old and I began doing the country opry circuit in the Midwest when I was 10 years old.  So I started out as super country singing the old traditional classic Patsy Cline, Tanya Tucker, Brenda Lee, Reba and then when I was about 12 I joined a girl group called The Commotions with Radio Disney.  So I moved to pop music at that time and I did that for a couple of years and then I moved on to the School of Rock and I went on a two week all-star tour with them. So that was when I was with rock music.  I was doing rock for a while and then started a rock group called (In Like) and I did that until I was about 22.  And I've been back in country music for about five or six years.
Q)  Okay now in the blind you expressed a willingness to experiment with your sound your current sound.  Do you have any idea which way you'd like to go musically?
Casi Joy:    I just really look forward to seeing what Blake, you know, really sees in my voice and if I'm if I should stay rooted in the traditional country or if I should go to kind of the different style of country or a different sound.  So I'm just really open to trying new things.  I mean this is the platform to do it and to get some coaching from someone like Blake Shelton and I think that's definitely the person that can help me really hone in on the type of country that I, you know, should be doing.  Or I mean I love to sing rock music and I love singing pop music because I love to dance. But I mean I think country does suit me the best but I'm definitely open to trying new things.
Q) And is that how you would describe your sound now as traditional country?
Casi Joy:  With songs that I choose to sing I would say yes traditional country but songs that I write I mean my original EP that I have out is definitely heavily pop rock or not pop rock….pop country.
*CONFERENCE CALL*