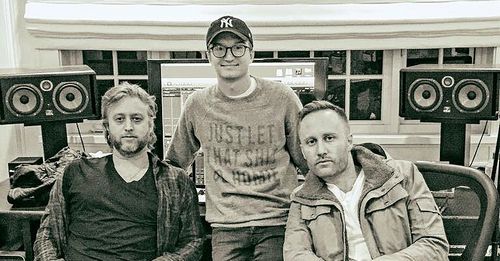 Scott Jason, Petey Martin & Clayton Stroope
Interviews
Thriving Ivory – Back Where They Belong
By
|
By: Lindsay Flanagan
Clayton Stroope and Scott Jason met in the early 2000s in college, after songwriter Jason was introduced to singer Stroope. The two hit it off—both personally and creatively—and began writing and recording music that would eventually become the foundation for the band Thriving Ivory. After recruiting (now former) members Drew Cribley, Paul Niedermier and Brett Cohune the quintet started playing shows for fellow students. They even funded their own independent debut record. Things began to change for the band when their song "Angels on the Moon" started getting rotation at the local radio station. It became one of the most requested tracks, which gained the attention of Wind-Up Records who ended up signing the band in 2007. They released their debut album in June 2008, which reached number one on the Billboard Heatseekers chart, fueled by the popularity of "Angels on the Moon." The single reached number 28 on the U.S. Pop 100 chart and the album went certified Gold in the U.S., selling more than 500,000 copies.
After the success of the debut album and whirlwind tours and appearances, the band went back to the studio and released their sophomore album Through Yourself and Back Again in 2010, spearheaded by the anthemic "Where We Belong." By this time, Brett Cohune had left the band. After more touring, a hiatus came—reportedly due to the hectic touring schedule and other personal issues, although further complications came from the label which prevented them from releasing any new music as Thriving Ivory. The band eventually—and just recently—parted ways with Wind-Up Records.
During the hiatus Stroope, Cribley and Niedermier formed a musical project called Midnight Cinema as a creative outlet because at the time they were legally bound to Wind-Up and were unable release music as Thriving Ivory. Midnight Cinema released a self-titled 5-song EP in July 2013 and then followed that with a full-length album in 2014, Lightning in a Bottle.  Scott Jason continued to write music and the band members also pursued other passions: college degrees, marriage, children—the normal life stuff that they weren't able to do while writing, recording and touring as a popular rock band.
After Midnight Cinema released their album, there was a bit of silence from the band members until there started to be hints on social media that Thriving Ivory was, well, beginning to thrive again. And then, at last, this official announcement was posted on Facebook:
"After getting back together this summer, we decided to start pushing forward with new music. It was no surprise that the original spark and unique energy was still there, making its way through pen and paper, piano, and microphone. We're still in the writing phase for this new record but we hope to have a finished product by Summer of 2017."
Thriving Ivory is getting back to where they belong (excuse the song-referenced pun), with Stroope and Jason, the two founding members, writing and recording. After the social media announcement, the two were contacted by Lippmann Entertainment (who represents artists such as Matchbox Twenty) and were subsequently signed to the label. They are now working with manager Jeremy Lopez on the new music. Additionally, songwriter and guitarist Petey Martin was introduced to Stroope and Jason, adding a new element to the band. Additionally, the band is working with producer Tedd T (who writes and produces for bands such as For King and Country) who is helping them to create music for the year 2017 (because, you see, their first album was released nine years ago) while remaining true to that distinctive Thriving Ivory sound.
Q) Can you tell us a bit more about the new music and I heard rumors that there might be a tour as well?
Clayton Stroope: It seems like it's easy for us to get people excited if I mention the word tour. I want people to be excited, but I don't want to make up stuff. The priority is to get these first few songs recorded and done so we have a handful to release and say, "Here's our new stuff!" And then next would definitely come plans for shows this year. We're from the San Francisco Bay area. It's where we really started so the first few shows would be here and maybe in L.A. to start. Our management firm—they manage Matchbox Twenty and a few other acts so there might be some, you know, maybe some stuff going on there. Again, I don't want to mention stuff. I feel bad because I talk about it and people ask where and I don't have a definitive answer. But I would definitely say that the order of events would be to release these new songs and then play a couple shows around it. Then, eventually, would come the full-on the several dates. San Francisco has always been our hometown. Our first show will probably be at one of our favorite San Francisco venues we used to play at. Not sure where yet though.
Q) You guys covered "Kiss the Rain" by Billie Myers, which was really popular in the late 90s—all the girls loved that song. So, when I heard it I wondered how much influence does late 90s music have on your writing?
CS: First, I want to give you kudos for actually knowing who wrote that song. We did not write it. And it's funny because all the time we would all read little comments or whatever, "Kiss the Rain" by Thriving Ivory and it's like, "Noooo!" We always thought it was a pretty obvious cover as it was big song, but it's funny because you get younger generations —not even younger, shoot, even five years younger might not know that song. But the 90s…Scott usually gives better answers about the songwriting stuff, but I grew up listening to Matchbox Twenty, Counting Crows and bands where the lyrics were very storytelling oriented. We don't write songs just to have a quick little song or that just fills up space. There's always deep thought behind it and a storyline. Hours of attention go into it, down to the word. Can we say this word here, does that carry the story along? I would say nowadays our focus initially might be a little more on the melody than it used to be. A lot of times we start there and then the lyrics follow, but not always. At least for me, the 90s (at least the rock bands or alt rock bands) really stuck to that. Especially Matchbox Twenty, every song is telling a story. So we really try and do that.
SM: I absolutely love your answer because you know what, Rob Thomas is the reason I'm a writer. So, I love that you're inspired by him and you guys inspire me – so full circle there.
CS: That's awesome.
SM: Scott, you wrote all the music and the lyrics for the first two albums. If I remember correctly from an interview you once did, you said you wrote the music and lyrics and then basically taught it to Clayton. Then, between the two of you, you would solidify what the song was supposed to sound like. It sounds like it might not have been the same process this time around? Can you tell us a little about that?
SJ: We have this group of people. It's basically Clayton and I and Petey and Tedd. We've just formed this very collaborative culture and feed off each other and critique each other. We have this same vision in mind and we just sort of go with what we think is best. We've been writing the past year and we got pretty lucky to be in this position where we were surrounded by these talented people who we can work with because at this time we can't focus full time on Thriving Ivory. Even though it's a huge part of our lives, it's not our entire lives like it was before. The creative process is a very collaborative melting pot of ideas between the four of us. We're all writers. We bounce stuff around and we get the vibe and once we feel like this is a great concept then we'll all go down that road and push the idea or concept of a song as far as it can go. It's much more collaborative this time around.
CS: It's also been kind of cool. The producer we're working with is a guy named Tedd T. Speaking of 90s, he did Jewel's first record and Faith Hill's Cry record. More recently he does all the production and writing with a really big Christian artist called For King and Country. It's been kind of cool working with him because one of our first challenges was we had the songs, but now how do we frame them – being as we haven't been in the studio in a few years— and how do we frame them sonically in the year 2017? We were just in Nashville messing with a combination of an upright piano and 80s sounding synthesizers so it's been a challenge, but a cool growth experience in learning how to frame these songs and make them sound current like something you'd find on the radio today. It's because music has changed in the last few years. So, we're excited for people to hear it because it definitely has that Thriving Ivory trademark. Like you'll hear it and know that is us, but musically there are some pretty big elements that are new and really fresh sounding so we're excited for people to hear it. I posted a little video clip on Instagram and you can kind of tell if you listen close—it's chopped up, but you can still hear little bits. I have to be careful because I'll get in trouble if I post too much of it, so I had to chop it up before I posted it.
Q) I heard it! I'm excited. I can't wait to hear how you guys have changed and progressed in these past few years.
Want to know more about Thriving Ivory? You can find them on Facebook , Twitter , Instagram , and also check out their new merch store . You can pick up their first two albums (self-titled and Through Yourself and Back Again on iTunes, Amazon, etc. Still not enough? We'll be posting part two of this interview soon!
Follow Thriving Ivory on Social Media:
https://www.facebook.com/ThrivingIvory/
Twitter: @ThrivingIvory
Instagram: @thrivingivorymusic
https://thriving-ivory.myshopify.com