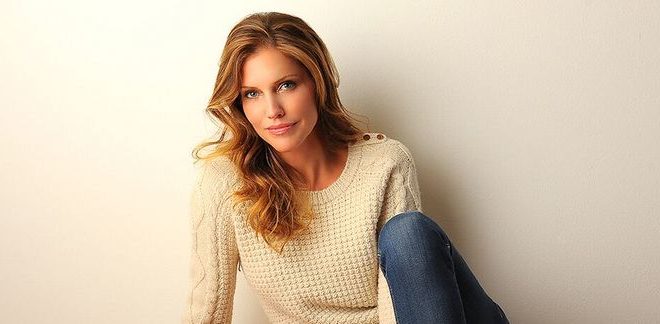 Marc Cartwright
Interviews
Tricia Helfer – Lucifer
By
|
By: Paige Zinaman
Q) What are some of the recent projects you're working on and can tease?
A) I'm in production for "Lucifer" Season Three so that takes up most of my time. But I'm also just starting Battlestar Galactica Podcast with Marc Bernardin. We've taped two episodes for the mini-series and we're about to tape the first episode of Season One, Episode Thirty-Three next week. So, it's a little too early to tell the details of when and where, but we should have that in a week or so and looking to launch in either December or January. I will make that information known when we can go public with it. That's exciting because I get to re-watch the entire show and I'm going to be doing I think it's seventy-eight episodes or something like that. And besides that, I've got two scripts that I'm trying—a book series that I'm working with a company I'm trying to get produced and then a little MOW (movie of the week) kind of a feel good romantic country vibe type MOW that I'm trying to get produced and star in and working with Ted Sullivan, one of the writers/producers on "Star Trek: Discovery" and Sandra Hess. So, those are just a couple of logs in the fire.
Q) We saw from Monday's episode Charlotte struggling to regain normalcy and her memories and how she struggled with all those emotions. How did you prepare for that being as she's no longer Lucifer's mother?
A) I really tried to focus on physicality and voice inflection and the focus. Charlotte's mind thinks differently than Mum's mind. So, hopefully what's going on behind the eyes is coming across.
Q) What was it like playing two different versions of Charlotte in the series?
A) I wanted to make sure that it was clear to the audience that it was a different person, tease in the very beginning that Mum might still be in there somehow. But the first scene where she first comes in she's in her shark attorney mode yet you can see very clearly that she's putting up a front that internally she's struggling and she doesn't remember anything. She's worried she's having a nervous break-down. So, she's trying to grasp onto anything to try and spark a memory. It's been three weeks since she took a fall over the pier, which she doesn't remember except for waking up on the beach after Mum vacated her body so after that it's been a four-month black out. People have told her some of the antics she's been up to, but she doesn't remember any of it so it was important for me to try and show that Charlotte is a very intelligent and very professional Alpha kind of woman that is putting on a front and trying to her best to look like everything is back to normal and struggling. Mum had a distain for humans and I don't even know if this is a word, but a grandiosity about her. She was The Goddess of all Creation at the end of the day so she had this flare that I wanted to get rid of with Charlotte, maybe a certain way of speaking an infliction that I didn't want to have with Charlotte. And in some scenes, especially earlier scenes in the season where Mum was a little bit of a fish out of water, I mean she knew about humanity yet she didn't know some of the intricacies. So, some of the comedy around Mum would be she didn't have a problem with nudity. Charlotte clearly wouldn't have that not knowing what happened in the last four months. She wouldn't have that fish-out-of-water feeling in any other aspect of her life. So, I wanted to make Charlotte much more grounded and human at the end of the day.
Q) Do you think we will see Charlotte regain the memories and if so how do you hope she reacts to them?
A) I think she would be completely flabbergasted. I don't think she'll remember anything at least at this point. I don't think she quite understands she was in Hell. I think Lucifer (Tom Ellis) has convinced her enough that she's trying to turn her life around, but I don't know if she fully comprehends it yet or if she's just equating it to something that happened and now she needs to be better and changed it so I don't end up in the same position even though she doesn't know what that position was. She's still struggling. She's getting on with her life. In the first episode back she is trying to pretend that everything is fine, but now that doesn't work. She's going to have her ups and downs and she's going to have her moments where she gets everything under control and things are good and they are better and then she'll have a tougher moment again where she feels like she's still struggling and she's not as good of a person as she thought was at being a tough defense attorney and it's a shake up for her. I think her struggle is a very human struggle and her struggle is really about identity this season and she remembers who she used to be then has a massive black out period and she doesn't quite know who she's trying to be so she's struggling. There's going to be ups and downs which I think is a very human journey.
Q) Do you think there will ever be a chance for Charlotte and Dan now that she's back to her normal self?
A) Yeah absolutely. As we saw in Monday's episode she's pushing him away because she's like, "I don't know who you are. And you're not my type." For Charlotte (the original Charlotte), Dan (Kevin Alejandro) was too nice. But I think Dan is going to start winning her over. As I mentioned, she's going to have her ups and downs and she's going to be struggling, but she's starting to realize that there's this guy that she believes now she had a relationship with. She still doesn't remember it, which is a source of embarrassment but he's slowly going to win her over I think and I think he could be very good for her. I think he could help her settle in to who she's trying to be.
Q) What has been a favorite scene to shoot this season?
A) There's been a few. I certainly liked some of this week's episode with Tom that we really got to see Charlotte's vulnerable side and a vulnerable side of Tom in the scenes and those were fun. The next episode I have coming up are with Aimee Garcia that was really fun. It was more comedy in those scenes. Not that Charlotte is funny, but she's hounding Ella on how to be better and trying to understand if Ella knows something because she said in this week's episode that, "There's this darkness about you." Ella doesn't want her around, put it that way. As it was definitely a lighter episode, but it was a lot of fun. I've had some sweet scenes with Dan and I got to work with Trixie (Scarlett Estevez) for the first time, which was great. And I just worked with Rachael Harris last night so there's going to be a good scene coming up with Rachael and I in 3×10.
Q) If you could describe Charlotte's evolution in three words what would they be?
A) Gosh, this might be Identity Flip-Flop Crisis. She'll think she's doing better, but then have kind of a relapse and then she'll build herself up again and she'll struggle again. So, at least at this point that's where we are with her. She's getting along with her life, she's working with the cops and trying to move forwards and then get beaten back down by her own desire to understand. I'm certainly working more with all the other characters. I didn't get to work much everyone else last year. I was with Tom and D.B. [Woodside] most of the time. Although I miss my boys, I don't get to work with them much anymore. I haven't even worked with D.B. yet. But they're not my boys anymore so I miss working with them, but it's also been nice to get to work with everyone else I didn't get to last year.
Q) What's one thing you've taken from other roles and applied to the new ones you take?
A) Oh gosh. I don't know if there's anything I've taken specifically from the others. I hope to continue to keep learning and growing and maybe there's just things I've learned along the way that helped me now or something. Each character is different. I did have a moment last season when I was about to come out of the elevator in the first episode and suddenly I realized I was playing the Goddess of all Creation. Oh my gosh, how do I do that? I clearly thought about it all, but you know they yell "rolling" and suddenly I'm having a little panic attack. I calm myself down and I went, "You played a robot for five years with multiple characters and multiple personalities. You've played a robot and you've never been a robot. You've never been the Goddess of all Creation, but you can do this. I just have to remind myself I've played a serial killer, but I've never killed anyone so just go with it, go with what you have prepared and be free in the moment to listen and play."
Q) Is there anything you'd like to say to your fans or you'd like them to know?
A) Oh gosh, Thank you! A big huge hug and a thank you for checking out the stuff that I do and being awesome! For being loyal – because not everything you shoot is going to be up their ally, but they may give it a shot or just being respectful. So, yeah a big thank you!