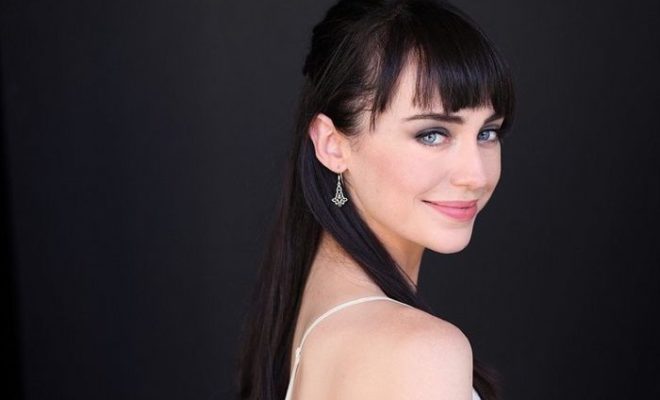 Interviews
Valerie Lucas – Twentyfiveish
By
|
By: Lisa Steinberg
Q) We're very excited for Twentyfiveish. When I spoke to Brendan Robinson, you all hadn't even filmed anything and it was getting funded still. Then, he said that you guys were filming towards December and now we're in March so it's been almost like the little series that could in a sense, but it's also gotten so much love and buzz already, even without people seeing it. 
A) Absolutely. The fans supporting this are just amazing, we couldn't do it and it couldn't be funded without them. It's so great to see it come together, I can't even imagine for Katie Micay, Kyle Bown and Jackie Ryan, who've just been working on it for so long. I can't imagine what it must feel like for them to finally see it.
Q) The series has been described as ''not quite a comedy and not quite a drama at the same time." What can you tell us about what this series is about and how your character fits in?
A) It definitely has elements of comedy and drama, which I like so much because I feel like that is real life. We have our ups and downs and a little bit of both at the same time. The gist of the show, it's pretty much about adulting, which is something that I feel has been coined in more recent years. We've all had our fails with that so it's just a group of real 25 year olds who were best friends in high school and have gone in many different directions. It's something I relate to a lot. I grew up in Rhode Island and coming out here to do acting, my friends are back home and we're in very different positions in our lives now. That happens a bit between Katelyn Tarver's character, Rosie, who was my high school best friend and my character Stella. Rosie goes off and pursues acting and Stella gets married very young and has kids so they have very different lives. It's kind of that reconnecting and how important the friendships are that you have when you're younger and how you can really rekindle those.
Q) A couple of the cast members are Freeform alumni and I wanted to find out a little bit about how you got involved in working on the project?
A) I could be wrong but I believe for Benjamin J. Welch, who plays Griffin. The two of us auditioned and we auditioned back in October, didn't hear anything for quite a while and then we got callbacks and got offered the part. It was a longer process, but I remember reading the script and hearing about it and just really liking it and liking the character Stella. She's very much the mom of the group and a nurturer, but she really feels like she has to keep up with the appearances of being perfect and so you see that following, it just gave some nice range in there.
For me, I grew up doing musical theater a lot. I studied film in college and found myself just acting in all my friend's films. So, I started auditioning in NYC and then moved out here and just been kind of plugging away. More in the independent film circuit, I actually have an indie film coming out this year called Driver X. It's a dramedy and I play Liv, an empathetic hippy. And it stars Patrick Fabian from "Better Call Saul," Oscar Nuñez from "The Office" and Melissa Fumero from "Brooklyn Nine-Nine" so there's good funny people in it.
Q) And I love how diverse and what a great range in the cast it also has as well. 
A) Absolutely. Another great experience of being on a project which such an amazing ensemble, such talented people just like I felt on TwentyFiveish. I feel like when people have a good sense of humor and are that talented and successful, you just have such a great group dynamic where you collaborate and come up with little things that you want to add together. Both projects have been a really great experience and it's been a good year for me.
Q) We talk about the series being crowdfunded, I wanted to ask a little bit about what was it like filming the series and being on this budget in a sense. Web series also are very short with their episodes, anywhere between five to ten minutes each, if even that. Was it very crammed or quick filming? 
A) Yeah, we shot for seven days and we were up in Topanga Canyon in the hills. You may have heard this before from some of the other cast members and producers, but it was kind of like a camp experience which was really fun and I think a good bonding experience for us. We didn't have any cell phone reception while we were up there and it was a beautiful house overlooking the Canyon where we did a mix of night and day shoots. And a lot of the people who were involved in the production side of it had worked together on some different Freeform shows before and they were just so passionate about this project. It was kind of their baby that they've been invested in and hearing about for quite some time. It was great to be a part of a project where you knew it was happening because so many people believed in it and were excited about it. The fans, crew members, the writers and some of the other actors who got attached to it a lot earlier than Ben and I. It was a great experience and it felt kind of like shooting one episode of a TV show because the entire plot of the first season for the web series takes place within a weekend so there wasn't a lot of crazy jumping in time. It was all fairly consecutive, it wasn't shot too much out of order.
Q) That's what I love about web series. I'm an avid web series watcher myself is that you do get these short bursts of episodes and then it absolutely leaves you wanting more, but unlike other shows where you have to wait a week like when we watch TV boom there's another episode. Either same day or same couple of days and that's also what I enjoy about Netflix series too where you get to binge.
A) They are bingeable, absolutely! I'm a massive binge TV watcher myself. I very rarely watch things week by week, I sometimes even wait for an entire season to conclude, let's say "Game of Thrones" or I've been loving "The Man in the High Castle." Then, I'll just completely binge it over one weekend or when I get sick. I think that's fun and that's honestly how a lot of us in this generation watch TV shows and that's what makes web series so marketable right now.
Q) We were talking about relating to your character and you talked about growing up in the East Coast of things, where do you connect or see yourself inside your character? 
A) I think there are a lot of different ways I connect with Stella, the whole aspect of having friends from a young age that you've had very different paths in life with is relatable. And I think there's an element of jealousy between Rosie and Stella and that's very relatable in a lot of female friendships. It can be encountered a lot in Hollywood, too. Figuring out how to approach that topic, talk about it and get past it while not letting it get in the way of true friendship is really important and on Women's Day, as we're talking right now, the idea of letting jealousy get out of the way and we all have a unique purpose in this world and being able to lift each other up. I identified with that topic because that's something I think in my own life I am very conscious about. Stella tries to be really kind to her friends and she has two babies, she's a mom. I'm not a mom but I love my friend's kids and dogs. I'm a dog mom, I have two rescues.
Q) What kind of dogs do you have?
A) They're still pretty tiny, I have Chihuahua mixes, which is pretty common in Los Angeles. They're super cute, one is four pounds and his name is Niles and the other one is ten pounds and his name is Mango. So, my lovable boys. That's where my nurturing definitely kicks in.
Q) I just wanted to talk a little further about the great writing behind Twentyfiveish and how they give voice to these characters and keep that balance between drama and comedy.
A) I think how real the writing is, that is something that I really connected with. Kyle, Katie and Jackie did such a great job on it and I got to talk to Katie quite a bit on how she's in that phase of her life. How she used parts of her life that she connects to and that she feels like she's struggling with, going through and putting them on the page in a way that is entertaining and funny is just so great. It's genuine and I think in this day and age where we have just endless options in terms of what to watch, there are a million different channels. And I even saw that CNN was doing a somewhat scripted drama now, too. I think things that are real, funny and relatable are just gems and I feel like Twentyfiveish is that. It's such a wonderful job in relating that.
Q) Is there anything that we didn't mention yet about the show that you'd like to talk about or we honestly don't know don't know when it's going to be released, but is there anything else that you'd like to make sure that we do hit on or include? 
A) I feel like some of the other people that you've talked to probably eliminated the things that I'll forget to mention here, which is strength in numbers. It was a great experience. I genuinely loved working with everyone there which is a blessing, there are always divas in Hollywood and in life and I did not feel that at all in this production. I'm proud of it and I'm just excited for people to be able to see it. I think they are really going to enjoy it and relate.