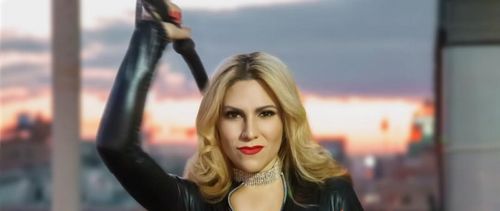 Interviews
Vanessa Verduga – Soy Mujer
By
|
By: Jamie Steinberg
Q) How would you describe your sound?
A) It's an urban fusion. So, it's a fusion of Latin, reggaeton, bachata, moombahton. It's pretty much taking everything I listened to in my childhood and fusing it to create something unique and complex as a woman. That's why the title is "Soy Mujer." I am woman. And there are so many layers to us! I grew up in the Bronx. My mother is from Ecuador. She was a single mother raising me and my brother. And in The Bronx there were a lot of Dominicans, Puerto Ricans and African Americans. It was just a big melting pot. So, that's why I grew up with hip-hop, merengue, salsa and cumbia. Now that I am taking that and putting into all of this album, it's a long way to describe my sound. [laughs] But it is complex like women.
Q) Who are some of your musical inspirations?
A) Definitely Selena, Shakira, Jennifer Lopez and Nicky Jam, J. Balvan, Ricky Martin. There are so many Latin artists that I have looked up to. Marc Anthony. But I would say my three leading ladies would be Shakira, Selena and Jennifer Lopez.
Q) We touched on it a bit, but could you tell us more about how the album got the name Soy Mujer.
A) I do have a song that is titled "Soy Mujer." One of the things that happens in the urban-Latino genre is a lot of the songs are misogynistic and objectify women. A lot. So, "Soy Mujer" pretty much talks about there being more to me. You may just see me as curves, but there is more to me. It's pretty much a woman taking control and saying "I am my own owner. I decide. I make my own decisions. If you want to stay, great. If you don't, there's the door. I'm not here to please you." I wanted to give a voice to women that don't have it in the urban-Latino genre. It's male dominated. There aren't that many women there and the women that are there are trying to be like the men. It's like, no, we need to embrace everting that we are as a woman. I'm here. So what? We're all equal. Get used to it.
Q) Where do you get the inspiration from for lyrics?
A) Definitely from my own personal life experiences. There are a lot of things that I want to say. Usually it is whatever stirs up any emotion is what I would like to write about. So, like I said, I have the song "Soy Mujer," which is about I am a woman. I make my own decisions. I stand tall. Then, there is a "Respeto Tiene Valor," which is one of the things I am very about. I'm very pro-women. We need to respect women and I pretty much wrote that song because I had heard stories…and I've experienced some of the stuff also. Like the sexual harassment and assaults that happen at clubs when you go out and you go with your friends dancing. It's been in the news as well. A guy who takes it upon himself and says, "Oh, she was drunk so I took advantage of her." The song is pretty much about there being value in respect and you need to respect me. Just because we're dancing, just because we're in the club – don't be that guy. It's not in your face, but when you listen to it at first you think it is about a woman who wants to protect her heart. But it's more than that. I'm hoping that eventually, when I do the music video, that concept comes through. I thought of the video afterwards. I thought of the song before Lady Gaga's film Til It Happen to You. When I saw that, I was like, "Oh my God! We are so in sync!" [laughs] I was like, that's exactly the message. I'm a bit of an activist in that sense. So, it's more about lending a voice to the voiceless and doing a little bit more and doing it in a way where you're not hitting people over the head with the message. You can't hit people over the head with a message, but something that is dancey and groovy is the easy way to ease messages in subliminally. [laughs]
Q) Which of your songs do you most enjoy performing live?
A) I definitely love "Owner of my Heart." I come in and I rap. It's my first single and it got over a million plays on SoundCoud. It's even been played on the radio in Europe and some parts of Latin America. So, I once performed it at Club Tempo in LA and it was shocking. I looked up and people were singing. I guess I wasn't expecting it. They made the announcement beforehand that I was coming so I thought maybe people went in and were curious about me. So, that to me became a lot of fun to do that song. Another song that I really, really enjoy is "Vivirla Bien," which is a happy-go-lucky song. It's the one that I am going to be promoting next for the summer. It's about you have to live it well. Tomorrow is promised to no one so there is no point to even dwell. We have to be happy with what we have and enjoy our friends and family. That is what life is about.
Q) Who is someone you would most like to collaborate with on a song in the future?
A) Oh my God! Yeah! I'd love to collaborate with Nicky Jam or J. Balvan. There are so many! I'd love to collaborate with more women. Men tend to collaborate a lot with each other in this genre and create. But there is not a lot of collaboration amongst women. Again, there's not that many women. [laughs] So, they just end up collaborating with the men that are there. It would be great to see more. I would love to collaboration with Ivy Queen. That's a woman I admire. She started in the genre years ago and she has put up with A LOT. A lot, a lot. She is definitely an inspiration for me and I would love to collaborate with her.
Q) What do you hope people take away from listening to your new album?
A) What I hope you take away is for woman – what I hope they take away is to feel empowered and really take it upon themselves to really be okay with being a woman. We tend to apologize too much for our existence almost. And men don't do that. We need to start owning our own space and power. Another one is I'd love to be the person that bridges the gap…Because there are some people who are turned off by the urban Latino genre because of the misogynistic lyrics. Because of all that. I'd love to kind of change that and bring those people over and say, "My music is different. It's about empowerment. My music is danceable, but has a great message." Kind of bring those people into the genre and start showing that there is more to our music and our people and our culture. It goes beyond. We're a little bit more progressive. That's what I hope happens.
Q) What would you like to say to everyone who are fans and supporters of your music?
A) Thank you so much. To my fans and supporters, it's because of them that I am able to just do this every single day. Everybody who has put their hopes and beliefs and everything behind me I'm just like, "I've got to do this. It's not about me. It's about the people who have been there and have believed in me." They want to see me go through with it. So, I have to suck up whatever juices I have and move forward. I thank them for being that rock for me. I also want to thank the people who told me that I couldn't do it. [laughs] There is an Albert Einstein saying that basically says, "Because you said no, I decided I could so I went ahead and did." I thank everybody good and bad that has come into my life because they have been an inspiration to push me forward.