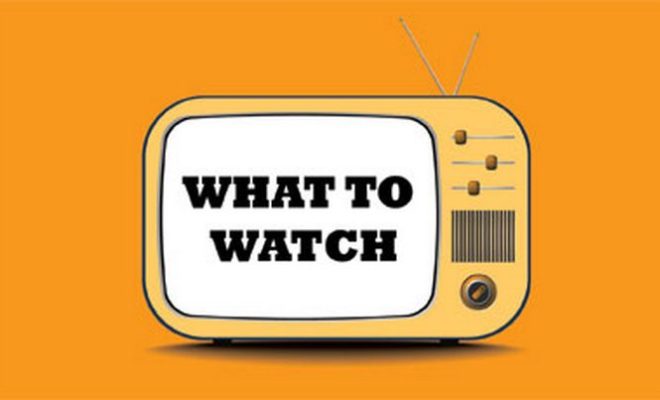 Features
What To Watch This Week
By
|
By: Jamie Steinberg
Monday:
Southern Charm – It's a new season and the cast of this Charleston centered series have gotten an update! Sure, the beloved bad boys and girls you have always rooted for (or despised) are still there, but now we're adding one of Shep's pals to the mix. Of course, this season promises to be as dramatic as ever as Camren decides to have a baby, Craig is still stirring the pot, Kathryn and Thomas remain at odds and Shep's love life is as colorful as ever! Be ready with a napkin tonight for when the tea gets spilled! (Bravo, 9pm ET/PT)
Taken – Tonight on a new episode of "Taken," we find the ODNI tasked with expediting a Russian's agents request for defection. Plus, Christina is on a mission to reveal the identity of a mole. Grab a seat on the edge of your couch seats! (NBC, 10pm ET/PT)
Tuesday:
Tonight is a BIG night. If I had more than 140 characters, I'd be featuring a NUMBER of shows this evening. But since I'm on a limit, I'm going to focus on two major shows that are back this evening and are DEFINITEY must-see-TV!
iZombie – It's the season premiere of "iZombie" and if this episode is anything like the season finale we're in for a busy night of sharing our favorite quotes, quips and scenes! We last left Liv and pals who were (luckily) able to manage a large zombie outbreak. Unfortunately, this left Liv reeling and she must now come to terms with the idea that there are more zombies in Seattle than she imagined. (The CW, 9pm ET/PT)
Prison Break – As I said, it's a BIG night. It has been seven (long) years since we last encountered Michael Scofiled on the epic series "Prison Break." Having been presumed dead, we now find clues that suggest he may actually still be alive. Ever faithful pal Lincoln Burrows reunites with Scofield's sweetheart (Sarah Wayne Callies) to help find out the truth. The clues lead Lincoln to Yemen where he finds former inmates Sucre, T-Bag and C-Note back in action trying to plan their biggest prison break yet! (FOX, 9pm ET/PT)
Wednesday:
The Goldbergs – Barry gets jealous of Adam's relationship with Pops and attempts to get in the way of their friendship. Erica has her own hands full after blowing her interview to get into Penn State. You know her smother, I mean mother Beverly is going to get involved! (ABC, 8pm ET/PT)
Chicago P.D. – Burgess is a bundle of nerves after she learns that her sister never returned home from a night out. Watch as her and her P.D. pals investigate and, hopefully, locate someone so special to one of our most beloved officers. (NBC, 10pm ET/PT)
Thursday:
The Big Bang Theory – Sheldon is ready to blow! Our favorite stressed out scientist reaches his limits (I know, nothing new for our sweet Sheldon) after he spends the day working on projects with Leonard, Wolowitz and Amy. What might be the hardest to believe is that it took three projects to make him lose his cool… (CBS, 8pm ET/PT)
Grey's Anatomy – After suffering the loss of her mother, Maggie has finished mourning and attempts to head back into the OR. Unfortunately, it might be a bit too soon as she is given a big case that gives her fellow doctors pause for concern over her state of mind. (ABC, 8pm ET/PT)
Friday:
First Dates – Everyone knows how crucial a first date can be. What if it was filmed and it aired on a major network? Tune in tonight to see a new series begin as we watch one dater thinks a flip phone will impress their date (sure, Jan) and another shares a story of loss. I'm already hooked! (NBC, 8pm ET/PT)
Reign: Tonight is a stressful night for Queen Mary. While her wedding awaits, a tragic loss further extends Mary and Darnley's distance from one another. With her hands tied, Mary seeks assistance from Catherine. (The CW, 9pm ET/PT)
Saturday:
Saturday Night Live – It's back, baby! Saturday Night Live returns after a brief hiatus to hit us with host Louis C.K. and musical guest The Chainsmokers. As we start to head towards summer, these episodes are bound to be burning up! (NBC, 11:30pm ET/PT)
Sunday:
Guy's Grocery Games – The food has hit the fan! Guy has whittled down his tournament finalists to four and here they compete for the ultimate Supermarket Masters Tournament trophy. Let's see the twists that Guy throws at them tonight and how they manage to flambé the competition! (Food Network, 8pm ET/PT)
The Real Housewives of Atlanta – The wig has hit the fan! At Sheree's housewarming, the girls are reunited with Kim Zolciak-Bierman who has something to say about Kenya. Meanwhile, Cynthia is still a bit irked that Kandi and Todd had Apollo's new girlfriend at their restaurant opening. Plus, Phaedra must explain her hand in a lawsuit a former employee has filed against Kandi. Drama, thy name is season finale! (Bravo, 9pm ET/PT)