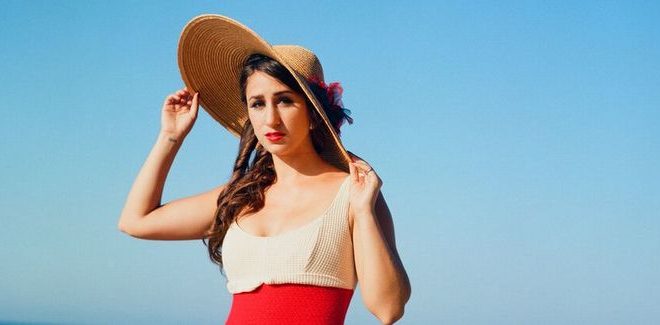 Laura Lynn Petrick
Features
When STACEY Sings
By
|
By: Lindsay Flanagan
Toronto-based indie-pop songstress STACEY is not a reincarnation of anyone past or present—at least not musically or physically, no matter how much her style and voice conjure up images of 1960s Hollywood starlets. (Spiritually might be a different story, but we'll have to ask her that.) No, STACEY is a modern singer-songwriter whose love and passion for vintage and art is evident in the cinematic music she makes.
The description of her music on her YouTube channel is that it is filled with "raw intimacy with the endless haze of sultry summer synth; melodies rife with the delicacy of raw, unadulterated romance " with lyrics that "emanat[e] a requiem for often unrequited love." And that couldn't be more true of her new single "It'll Be Alright." Shot on 8mm film in California, with STACEY behind the wheel of a '68 Cadillac Deville, the video feels as if time's pages have been turned and STACEY is the most sought-after Hollywood starlet. Couple that with her lush vocals, warm melodies and relaxing beats and the music world has been given a glimpse into the past, which perhaps is exactly with this hyper-technical present population needs.
STACEY released her first EP, which was self-titled, on December 5, 2013 and followed its release with a short tour hitting cities in Ontario. The EP is a collection of piano-and-voice ballads with melancholy lyrics that warrant the previously-mentioned YouTube description of her music: raw, unadulterated and (to add to our own thoughts) genuine. In a world of autotune and airbrushed digital videos, STACEY's natural music and videos transport listeners and viewers to a simpler (and possibly truer) time where an open winding road set above the blue Pacific Ocean and a good song flowing through the speakers was where the real magic happened with lace-gloved hands on the big wheel of the car instead fast thumbs swiping right on a screen.
The self-titled EP (and remix EP, which followed the original release) received praise from Pigeons & Planes, Impose, IndieShuffle and Stereofox. Additionally, her live performances have garnered her, along with new fans, the opportunity to share the stage with artists like Charlotte Day Wilson, Cameron Avery, Lenka, Emilie & Ogden and D.D. Dumbo. Her songs have been featured in the TV programs such as Lucifer, Orphan Black, MTV Scream and Degrassi.
It's been four years since her first EP release, but STACEY fans don't have much longer to wait for new music from her. "It'll Be Alright" is the second track from her upcoming sophomore EP titled First Move. The title track was released in February of this year on Ladygunn, an independent print and online publication that focuses on music and fashion—both of which fit STACEY's brand and platform very well. The article not only premieres the video for the song but features several still shots of STACEY in gorgeous vintage clothing, set in floral backgrounds and on the sandy beach. Since the song's release it has received over 100k streams on Spotify. The video for the song was funded by Bell Media's MuchFact, a foundation that helps emerging Canadian artists and has in the past helped artists such as Arcade Fire, Barenaked Ladies, Carly Rae Jepsen, Nelly Furtado and even Celine Dion.
First Move was…Well, the first big move in STACEY's career. In 2016, she posted a video of herself on Instagram playing the song. Producer Alan Day stumbled across it in his explore feed. He reached out to her to set up a session at fellow producer Derek Hoffman's studio, which happened to be right across the street from her apartment completely unbeknownst to her! This "move" was the right one and during the session the trio clicked and moved forward to making the rest of the EP. It was mixed by Jason Dufour, who is a recipient of the Juno Award, an accolade given annually to Canadian artists and bands and acknowledges their artistic and technical achievements in music. The EP is set to release on September 17th.
The title track release has now been followed up with "It'll Be Alright," which is possibly the the crown jewel in STACEY's ever-increasing collection of music that is wistful for the past but hopeful for the future. "It'll Be Alright" is the perfect mix of STACEY's passions: the retro cinematography, the vintage clothing (which were her own clothes—STACEY doesn't just dress like a 60s Hollywood starlet just for her music videos), and the classic car. The video was directed, shot, and edited by STACEY's friend and photographer Laura-Lynn Petrick. And while visually it conjures images of classic Hollywood and starlets like Audrey Hepburn and Marilyn Monroe, musically it is much more modern yet its roots seem to be coming from the smoky rooms of midnight cabarets.
The video was shot entirely in Los Angeles, which is a place with which STACEY admits she has a love affair. The song was written in LA and so it only seemed fitting that the video to accompany the song be filmed there. Although "It'll Be Alright" wasn't the first video she shot in LA. "Sleep Alone" from her self-titled EP was filmed there by David Schuurman. The video features her wandering around the beaches and piers and looking over the vast expanse that is LA as she sings about hoping for another chance.
STACEY says that to her California is dream-like and ethereal, providing escapism for those who really need to get away from real life. STACEY said in a recent interview with When The Horn Blows, "I wanted to visualize the notion of working through something and being calm, resilient, and even hopeful in an ambiguously difficult time…I hope it just takes people to another place for 3 minutes and 30 seconds. Especially if they needed the escape."
And it certainly does—not just to another place, but almost to a completely different time—something that the older generation can reminisce about and the younger generation can experience (if only through film) making it perfect for this time. It being an anthem for today is certainly backed by evidence of success and that of "First Move." Both songs have been featured on CBC Radio, Canada's national public broadcaster, which has been on-air since 1936. CBC said of "It'll Be Alright" that it is "unyieldingly positive" and that it is "kind of like having a friend comfort you in your headphones."
On the week of August 29th, "It'll Be Alright" was featured on C-Heads Magazine, which is a print and online magazine based in Vienna and Berlin and features designers, stylists, musicians and writers from all over the world. C-Heads selected it as one of the top twelve videos of the week. As a magazine made by women, this must have been a big honor for the young Canadian. A proponent for women in the arts, STACEY founded the Toronto Women in Music Collective, a group formed to help women in Toronto be successful as musicians, artists and professionals. The goal of TWMC is to ultimately create a voice and space for women in music. The group now has more than a thousand members that provide resources, experience, support and inspiration to each other.
STACEY herself is inspired by artists like Carole King, Tame Impala, Tobias Jesso Jr, Washed Out, The Beach Boys and even the Spice Girls. She's been compared to one of her inspirations, Lana Del Rey, both in her music, style and because of her affinity for the era of glorious Hollywood. In fact, Flare Magazine listed her in their "10 Canadian Artists You Need to Have on Your Radar RN" and said, "[i]f you like Lana Del Rey, check out STACEY," whose musical and stylistic vibes are just as transcendent and magical.
STACEY's magic is in her music and it will whisk you away to different time and place, with its dreamy quality and lyrics filled with contemporary and timeless themes of love and loss, melodized by classical music that evokes emotions such as longing for the past while patiently and stoically accepting the present. Because, you see, STACEY doesn't forget the past as she lives in the present and turns to the future. Perhaps that is symbolized by her unique signature emoji of a rose on her social media channels or evidenced by her rose-themed live shows. A rose, she says, is "a fitting symbol of romance. There is magic and vibrancy all wrapped into one beautiful thing that eventually dies. But you'd never regret its fleeting existence. At least, I haven't."
One thing is for certain: the Canadian music scene isn't going to regret or forget STACEY whose music not only has the ability to span generations, but to be timeless. American audiences should tune in now and catch STACEY not because there will be a missed opportunity, but because not tuning in will deprive them of a magical music journey with themes very reminiscent of their own, ones that build upon a past so that the present and future are richer, deeper and stronger.
You can find out more about STACEY and hear her music on her social media channels:
Spotify: http://spoti.fi/2s8hyAj
Apple Music: http://apple.co/2rAQiYb
Facebook: https://www.facebook.com/staceymusic/
Instagram: http://instagram.com/staceymusic
Twitter: http://twitter.com/staceymusics
You Tube: https://www.youtube.com/user/officialstaceymusic
Soundcloud: https://soundcloud.com/staceymusic