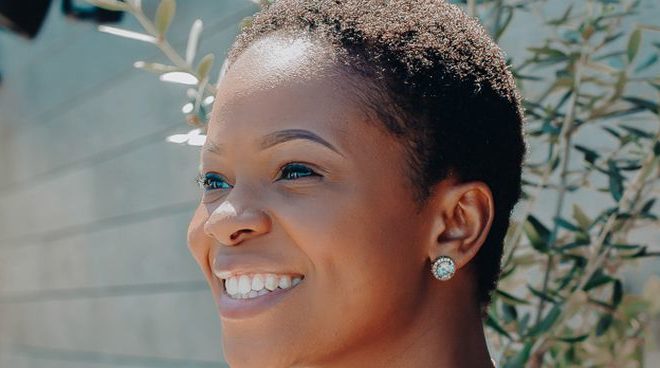 Interviews
Zainab Balogun – The Royal Hibiscus Hotel
By
|
By: Kelly Kearney
Q) You play Ope in the critically acclaimed film The Royal Hibiscus Hotel. Tell the fans a little bit about the film and how the role of Ope came to you.
A) The Royal Hibiscus Hotel is a romantic comedy centered on love, passion and family. I played the character of Ope; a chef chasing her dreams in London with hopes of making it in the big city. After struggling to find her way, Ope returns home (Nigeria) to find the family business, The Royal Hibiscus Hotel, in bad shape. She sticks around in hopes of turning things around, only to find love in the midst of chaos with a handsome bachelor who her father has sold the hotel to. "The Royal Hibiscus Hotel is my second movie with Ebonylife Films. Following the success of the The Wedding Party, which premiered at TIFF 2016, I was asked to audition for a part in their new project and simply couldn't say no.
Q) The film is getting plenty of buzz and positive reviews. Being that it was the only Nigerian Film to make it to the Toronto International Film Festival, what is about this film that sets it apart from the rest? 
A) The movie touches on a major theme I believe people connect with or wish to experience: love! Everybody wants a piece of it. The moment you mix that with some Nigerian flavor, humor and culture, you have a winning recipe.
Q) The character of Ope is a chef who concentrates on fusion cuisine, which is very hot right now in the food world. What's your favorite types of food fusions?
A) I most definitely don't discriminate with my food. I love trying new things and will give almost anything a try. I love Asian and African fusions -food infused with lots of flavor.
Q) I think many Western (American/Canadian) fans know little about Nollywood or the film industry in Nigeria. Can you talk a little bit about the differences and maybe the similarities of filmmaking in Nigeria as opposed to filmmaking in America?
A) Nollywood is one of the biggest film industries in the world. It started very small, but grew quite rapidly and its' popularity has skyrocketed across the globe. This wasn't technically because we had the best in technology or knowledge, but the industry thrived on a passion to tell Nigerian stories from our perspective. It doesn't get any more original once you control the dialogue and tell authentic stories. I believe the world was ready and hungry to see what the continent had to offer and film was the perfect tool.
There are endless differences to the Western and Nigerian film making business. Making a movie in Nigeria is tough – financing and distribution networks are still issues filmmakers have. The studio format isn't as popular and a lot of productions take place independently from the format used in America. Some films are written, filmed and edited in a matter of weeks, which is hugely different to the way films are made elsewhere. For an industry that's still growing, we have a way to go with streamlining our process and making the most of it as a business opportunity.
Q) In the last decade, the Nigeria movie industry has been BOOMING! As an artist, what do you attribute Nigeria's "Golden Age" of film and culture to and, how has it affected you personally?
A) Nollywood has acquired its success due to the people and a gap to offer alternative storytelling. The world was full of stories on love, adventure and more from a Western perspective, but not many African tales. The industry seized an opportunity and ran with it. I'm excited to be one of the young stakeholders reaping the benefits of the work put in by those before me.
Q) Was there anything you learned about your craft or took to heart while filming from working with director Ishaya Bako?
A) My biggest nugget was learning that when telling a story on love and passion, it doesn't have to be complicated. It's the little, often most simplistic things, that bring such a story together and captures the audience.
Q) What was the best part of filming The Royal Hibiscus Hotel and what was the hardest?
A) The best part of shooting the movie was getting a chance to eat all the great dishes on screen! When making a movie in Nigeria, there are many challenges you can expect from power shortages to logistics. However, we had one goal and pushed right through it all.
Q) The film has a star-studded cast and the chemistry, both romantic and familial, is off the charts.  Do you have any fun behind the scenes stories you can share with the fans?
A) It was my first time working with the veteran actors who played my parents. I grew up on the work of both Jide Kosoko and Rachel Oniga. To meet them and bond so effortlessly with them was such a blessing. They really did take care of me like any parent would. There was just a natural bond between us.
Q) The Royal Habiscus Hotel is the second film you've done for Ebonylife. The first The Wedding Party broke records as the highest grossing film in Nigeria and was recently acquired by Netflix. For media companies like Ebonylife, what are some of the benefits of partnering with streaming platforms like Netflix?
A) Traditional film distribution outlets have maintained the business successfully over the years; however as we go digital, the likes of Netflix have opened a new window of opportunity. You now have a wider audience at your fingertips while your movie travels. This can only serve as an advantage in getting more films out there at a faster pace.
Q) What do you do you hope movie viewers take away from seeing The Royal Hibiscus Hotel?
A) I hope that people will learn to run with their passion, wherever it takes them and leave themselves a little more vulnerable to that beautiful, crazy thing called love!
Q) You are very active on social media. Do you like interacting with the fans of your work? What's it like to get that instant fan feedback?
A) I try my best to be as interactive as possible. I like to take my fans to work with me and show them process. I think it's important for people to be a part of the glitz and glam, but also witness the hard work and the teamwork it takes to make the magic. It also serves as a great focus pool where people tell you what they think without holding back.
Q) What's next for you, Zainab? Are you working on any other projects your fans can look out for?
A) I'm just wrapping up another project in Morocco and will be back on set as a lead in a new movie titled Walking with Shadows by A'oife O'Kelly.