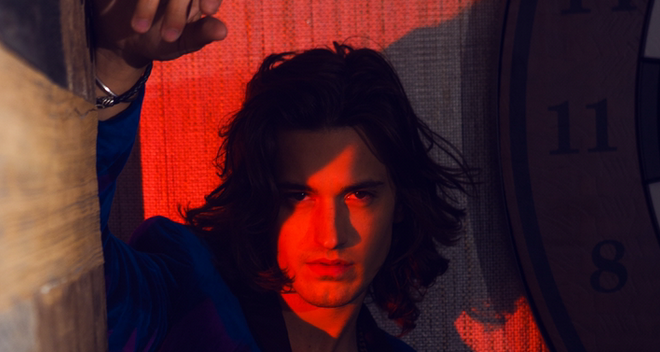 Steve Gomillion
Interviews
Asher Monroe – Inner Warrior
By
|
By: Jamie Steinberg
Q) How would you describe your sound?
A) My sound is a mix of pop, R&B and soul. My songs have to be lyrically and melodically driven with production that has a smooth groove to it.
Q) Who are some of your musical influences?
A) Freddy Mercury, Stevie Wonder and Otis Redding.
Q) How did the album get the name Inner Warrior?
A) Inner Warrioris the type of attitude you have to channel to really make it in this business. Spending as much time as I did critiquing what the world hears, being able to emotionally open up and write with no fear, being able to take criticism, persevering through all the ups and downs – that, to me, is my "Inner Warrior."
Q) What is your song writing process? Do you need music before you can create lyrics?
A) I usually start with a melody. Sometimes a song will come from four basic chords on a piano or sometimes from a very basic track that I end up building out later. Only one song on the album, "Sweet September," started from the lyrics. Most of the songs had some basic music progression complimenting them before I fully fleshed it out.
Q) How much of hand do you have in the production of your music?
A) I am full-hands-on-deck when it comes to the production of each of my songs. I never pass it on to someone who I think could do it better. I write, I produce, I engineer and occasionally I will play an instrument on a final recording. I also will sit for hours with a mixer to make sure every sound is right where it needs to be in the final mix.
Q) Will there be music videos for every song off the album or just certain tracks?
A) I'm currently in the process of directing a short-film music project that will focus on two songs off of the album. It will involve a back story, acting, drama and character development and will leave you wanting more. It's the most current project that I'm working on. I'm very excited to release the first chapter.
Q) What can fans expect from a live Asher Monroe performance?
A) I have a few spot dates coming up this summer. The big plans are to solidify a big tour. We are still in talks and will hopefully have dates to come very soon. Stay tuned!
Q) Which songs of the album are you most looking forward to performing for an audience?
A) "Hurricane," "Inner Warrior," "Sweet September," "Sail On" and "Right Away."
Q) Where are some of your favorite places to perform and what makes those locations so significant to you?
A) I love performing to an audience no matter the size or age range. I like surprising people with my musical capabilities. I'm an old soul with a new age sound. Performing is in my blood and I've been doing it for as long as I can remember.
Q) What do you hope listeners take away from Inner Warrior?
A) I hope listeners get a bigger insight into my life. I want my listeners to get a taste and feel for who I really am and what I'm about. I have so much more to give and this album is the first body of work that really represents me in my truest form. It's an emotional rollercoaster of the last few years of my life and I want my fans to feel something – whether it be happy, mad or sad. I want my music to trigger something deeper.
Q) Who would you most like to collaborate with on a song in the future?
A) Ed Sheeran!
Q) You're also an actor. Do you have any upcoming roles we'll be able to see you in?
A) You'll get to see me in the music movie project that I'm directing and starring in. Can't wait to unveil it!
Q) What made you decide to transition from acting into music?
A) Acting has always been fun for me to delve into and I enjoy it, but it doesn't give me the same feeling as singing my songs on stage to thousands of people. There is nothing like that feeling. I would have to say music for me is more rewarding, but who's to say what the future will bring. I can only speak for right now.
Q) What album/band are you currently listening to and why do you dig them? 
A) To be honest, I kind of stopped listening to current radio lately because I'm not really into the new wave of music. Everything is turning to digital and commercial and, to me, it all kind of blends together. Call me old fashioned…[laughs]…but I'm still jamming to Red Hot Chili Peppers, U2, Sting, etc. If I had to choose some new school you might catch me slipping and listening to Twenty One Pilots, Rae Sremmurd, Ed Sheeran or Bruno Mars.
Q) You are a part of social media. Why is that such an important way for you to connect with your fans?
A) It is an important way to connect with your fans. Don't get me wrong, I just feel it's been drawn slightly out of proportion over the last two or three years – mainly because it takes time away from artists having time to make GOOD music. People expect a new piece of content every second of every day. Unfortunately, that's just the way the industry has shifted so people have to adjust.
Q) What would you like to say to everyone who is a fan and supporter of you and your work?
A) I would like to say, from the bottom of my heart, thank you for your patience and for always believing in me. I have so much more to give and I'm so looking forward to the journey upward. My true fans have been with me since day one and I love them for that. I can't wait to show the rest of the world what else is in store.