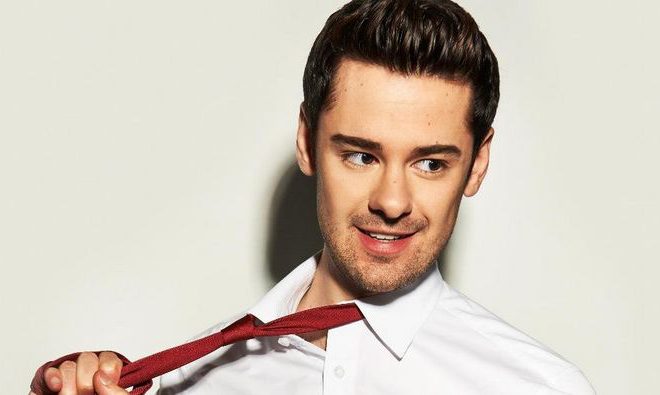 Interviews
Brendan Robinson – Twentyfiveish
By
|
By: Lisa Steinberg
Q) It is interesting to see how far Lucas has come throughout the seasons of "Pretty Little Liars." We find him now really well off in the world.
A) I call it "revenge of the nerds, literally." But I'm kidding! Revenge meaning the nerds end up being the rich and successful ones. I wish that was real life! [laughs]
Q) Things have truly seemed to come full circle for Lucas over the years.
A) It's definitely been full circle for Lucas. I think the characters has come very, very far since Sophomore year of high school. We have gotten to see a bunch of sides to him and I'm very grateful to the writers and producers for letting me do something different every season. The first season he was kind of the platonic friend/confidant and you didn't know if I was a red herring or involved with the whole A mystery. Now, it's totally different. I think it has really gotten back to this place of Hanna (Ashley Benson) and Lucas being friends again. And that's something that I personally wanted to see for a while now and all of the fans wanted to see for a while. It's a relationship that really resonates with them.
Q) This has been one of the most stable friendships throughout "Pretty Little Liars."
A) It's been a really fun journey and I'm glad I have gotten the opportunity to play this well rounded, full circle storyline. That's pretty much all I can say leading up into Season 7B. There are a couple of surprises that I can't go into. There is a lot of secrecy with the show.
Q) But there have been some great guest stars being teased through social media!
A) Simone Biles is a huge fan of the show and I think right after she won the All Around gold medal Marlene [King] reached out through social media on the Freeform Facebook page that she and the team were welcome to visit any time. Simone took her up on that offer. I think possibly some of the other girls are coming, but I'm not sure. Simone is actually the second or maybe third Olympian come visit. We had Missy Franklin visit during Season Three and we had another track star come. It's a lot of fun to meet all these different people!
Q) Will we see Lucas changing his colors towards the finale?
A) There is a really heavy Lucas episode and I think it is #716 where there is a lot of light shed on his past and motivations for what is happening right now. It can either be a good or a bad thing. I think that's as much as I am going to give away. It will definitely keep people on the edge of their seat and wondering what will happen the last few scenes of the episode. It is now officially the end of the series and that has kind of afforded the writers the opportunity to really give closure and finally give the answers that people have been waiting for now for years. So, I can promise you there are no more cliffhangers by the time we reach the end of the season because this is the end.
Q) Have you had your last day filming?
A) I have not yet. We start filming the finale this week. So, I have not had my last day yet, but I imagine it is going to be tough. It is kind of a bittersweet thing. It has afforded all of us (the cast, crew, writers and producers) the opportunity to have a platform and build an audience. So, it's been a great kickstart to my career. It is going to be hard to say goodbye, but I think that everyone is on the same page. It's the right time to end. I think we told a good story and we wanted to kind of go out while we're still on top.
Q) You have all spent a great deal of your youths together.
A) With the exception of Sasha [Pieterse], we all spent our early and mid-twenties doing the show, which I think is a really significant period of someone's life. So, it's been a special thing not just to have a hit show in general but at this time in everyone's lives. It's been fun and I'm excited to see where everyone goes from here and what kind of projects we'll do next.
Q) Is there something in particular you plan to take from set as a momento?
A) That's a really good question! I can't say what it is because it is a major, major story point coming up in the last ten episodes but it appears in this very Lucas heavy episode. There is a prop that was custom made just for the show and I would like to keep it if they'll let me. It is something that I think the best way to describe is priceless. So, it is a one of a kind of a thing made just for the show. I would love to keep it and be able to frame it; however, I think I'm not the person who has first dibs on it. We'll see! I'll see what I can swing. Once you get to the episode, you'll know exactly what I'm talking about. I was talking to our costume designer Cameron [Dale] and asked if the girls got to keep some of the stuff afterwards. She said, "No. It's actually all owned by the studio." It's interesting because they keep everything and turn it over to the Warner Brothers Rental Department so other productions can come in and rent the same clothes we've been using for seven years. Anything above $200 (clothing, shoes, bags, jewelry, etc.) all goes into a separate storage facility that is claimed as an asset by the studio since it is worth a certain amount of money. I don't think the girls have access to that either. So, we'll see what people end up getting to bring home as momentos.
Q) You also have this new series "Twentyfiveish" that you are working on.
A) It is not quite a comedy and not quite a drama. It really blends elements of what I think real life is. It is a six part digital series that is ten to twelve minutes per episode. It follows six friends in their twenties who are all around the age of twenty-five. Some of them have kept in touch since high school and some of them have not. It is kind of the first reunion that all six people have had since they graduated high school. When I was approached to do it, it was something that really resonated when I read the script because the characters are my age in real life. I think that is a really universal question that we ask ourselves in our mid-twenties and moving ito our thirties – has my life turned out the way I anticipated it would when I was seventeen? We explore through the lens of each character if that is true for them or not. So, the character I play is Tucker and he is best friends with the lead girl, Rosie. The whole series begins with me taking Rosie away for a long weekend to my parents' beach house to get her mind of a recent breakup and also some business failures that she has been having. I've been her best friend since we were little so I'm doing all of this out of love and trying to get her out of a rut. But it basically ends up with the weekend putting her in an uncomfortable situation because she is seeing all of these people from our past that I also invited. So, it brings up funny stories from their past, but also tension and drama from her past as well.
Q) Have the people they encounter have they played a significant role in the past?
A) They all went to high school together and some of them have remained friends. Rosie and Tucker have kept in contact with some of these people, but also some are frenemies as well. It kind of reminds me of a ten year high school reunion would be like except with the people who you were closest to back then instead of everyone in your class. It's a lot of fun! We just recently announced that Kaitlyn Tarver signed on to play the role of Rosie. She was a regular on "Big Time Rush" and she has had a successful music career. So, at the moment she and I are the only two announced. The next couple weeks we'll announce some of the other cast members. We are doing crowdfunding in order to actually raise the money to make the project. We are doing it through Seed&Spark, which is a crowdfunding website that is similar to Kickstarter or GoFundMe. They specifically focus on digital film and television content. So, they are experts in this field and have been guiding us along the way. We have been raising the money and have a week left to go. There are a bunch of different ways people can contribute. Seed&Spark also have a partnership with Full Screen Entertainment, an online network for digital content. Part of the deal with them is that if we reach 1,000 followers we are guaranteed distribution. That means it can go to you guys and people can actually see it. So, if people don't want to contribute financially they can also do that. All of the information including the link to our Seed&Spark page is on my Instagram in the bio. Head on over there and check it out!
Q) There are a lot of "Pretty Little Liars" perks with it and other great opportunities as well like talking with you.
A) You can also score a follow from me on Twitter. You can score some personal shoutouts from me on Twitter. We have a couple of incentives that have to do with "Pretty Little Liars" that are more for fans of the entertainment industry. We have a digital Q&A panel about getting started in Hollywood. So, if you have ever felt the itch of getting into show business, we are having a panel from all different professionals from actors to producers to writers to crew members that can answer all kinds of questions. In addition of that, we have signed show t-shirts. Again, the Skype "coffee date/session" with me. We have different levels of producer credits also. Depending on how much you donate you can be a producer on the project as well. I think that is the most exciting part of these crowdfundings is that they become a community event. I think it is more meaningful and special that way. We would also get to premiere the series at the Tribeca Film Festival in New York. Check out my social media accounts to find out how fans can help us be the project of the year.
Q) When will filming begin?
A) December is our projected shooting date, the first couple of weeks. I don't want to say for certain the release date, but it would probably be the Winter or Spring of 2017.
Q) Has your work on the series inspired you to do more in the entertainment industry?
A) I am actually a producer on the series, which is a whole new set of skills I am learning. It's still very creative, but at the same time you do have to focus on fundraising, budgeting and the logistics of the project. It's not just showing up on the day and becoming your character. It's been fun and I'm definitely looking forward to doing more of it in the future. So, it's been a good learning experience and I'm grateful for the opportunity.
Q) Have you watched many digital series or web series yourself?
A) Not on this scale. I'm a fan of a lot of Netflix and Hulu series. I love that series "Casual" on Hulu as well as "Kimmy Schmidt," "House of Cards" and "Orange is the New Black" that are technically considered digital shows (but they have a slightly larger budget than we do). [laughs] I actually have never been in tune with this smaller kind of grassroots digital platform world. I am learning that it is actually a really big community and a lot of content out there and a lot of talented people are making things. You can watch on YouTube or sites like Widescreen. It's been exciting!
Q) What kind of guidance have you received about producing?
A) I think the best advice I was given was keeping an open mind. As an actor, you have a collaboration between the writer and director of a projeec.t it's kind of a three person thing. At least when you get the job, there aren't a huge number of variables. You kind of have a vision of where you want to take the character and usually because you got the job in the first place people are already on board with that vision. As a producer, you may have a vision for a project or casting or location or how a costume should look, but there are so many different things that play into creating something like this. So, the best advice I have been given is to keep an open mind and have a Plan B. You have to be prepared for anything to happen. It's kind of like the whole not putting all of your eggs in one basket saying. I've been learning how to do that a little bit more.
Q) You get to team up with Kyle Bown from "Pretty Little Liars" for this series as well.
A) Kyle and I have known each other for the past seven years. He started working for Marlene since the beginning. He eventually moved on from being an assistant to a writer's assistant to writing a couple of digital episodes that we launched around four years ago that went on the Freeform website. Then, he got to write a couple of episodes of "Pretty Little Liars" with Marlene and one with another writer Kateland Brown. He and I have kind of established a friendship over the course of this show and I think we always wanted to work together on something else. So, this is kind of the start of our working relationship outside of "Pretty Little Liars." So, I'm very excited for it!
Q) What else can fans do to help with "Twentyfiveish?"
A) Anything helps! Anything from one dollar to ten dollars to a thousand dollars. Also, it's going and liking our page. It doesn't have to be financial. It could be helping us get the word out on social media. Any kind of support that we can get is appreciated. You can find that information on my Instagram. Everyone just spread the word! Shout it from the mountain tops!