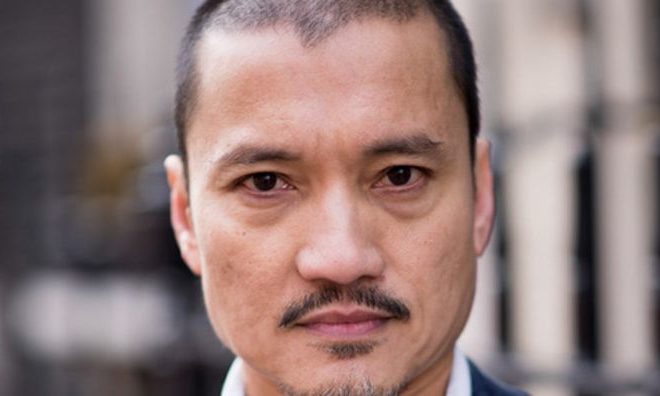 Interviews
Jon Jon Briones – American Crime Story
By
|
By: Jamie Steinberg
Q) What are the recent projects that you are working on?
A) I have just finished Miss Saigon on Broadway. During that, I did a couple of readings of a new musical and also a workshop of a new musical. It was really amazing and at the same time exhausting. They call it "double duty." I would rehearse in the morning through the afternoon and then go straight to the theater to do the show. The amount of lifting in Miss Saigon, I said, "I will never do that again!" [laughs] All of them are exciting though! One of them is a workshop of The Sting. They are doing a musical version of it and that's exciting!
Q) We're seeing you on "American Crime Story." How was your character Modesto Cunanan originally described to you?
A) I would say, without being simplistic about him, he's a person who thinks he is a big fish in a small pond. He wants to swim with the big sharks in the ocean. He has this really distorted vision of the American dream – how it should be and how you get it. So, he has built huge, elaborate lies around him.
Q) That must be where his son gets it.
A) Yeah! They didn't give him a chance. That's exactly how they raised their child – to think he is special and better than everyone else. Even his siblings. There are instances where a child gets lucky and gets away from that because that's not how they are built. For the most part, you raise your child like that and they will grow up like that.
Q) What kind of research did you conduct into playing this real life individual?
A) First of all, I remember this. In 1997, my wife and I were about to leave Germany where we were doing Miss Saigon. Maybe we were back in the states by then, but the one thing that resonated with me is that he is part Filipino. It sounded exciting in a distorted way because I thought, "Oh my God! I'm Filipino!" When I auditioned, I tried to find out as much as I could about Modesto and found out where he came from. I found clippings of interviews with writeups about him, but not a lot from him personally. So, what I gathered were YouTube videos where they are trying to get to him, but all you see is him in the background waving them away. As soon as I got to set, Matt Bomer (my director) was really amazing about it because he gave me a copy of Maureen Orth's book Vulgar Favors, which the TV show is based on. I found out so much about him! Also, I had a moment with Maureen talking about him because he's met him. Also, Tom Rod Smith who is the main writer of the show and I asked so many questions about him that helped me prepare for the scenes.
Q) What was the process you went through in order to get into character?
A) laughs] When people ask me my process, I don't know how to answer that. What I do is try to trace the history of the person. Where did he come from? How did he get to this place? How did he get what he wanted? Me, being a Filipino, that kind of helped me because I understand where he came from – the need to get out of one place. For him, it was how did he get to be somewhere where everyone is talking about streets paved with gold and grow money from trees. That's how Filipinos talk about America. Watching Hollywood movies developed our mentality about America without being there. So, all of this wanting and needing – I try to grasp that from the character of Modesto. And the writing helped me so much because it was so good. It just flowed. Also, the direction and guidance from Matt Bomer helped me a lot.
Q) Was that the most challenging part of your portrayal – that there wasn't much information on him?
A) When you're trying to portray someone who actually lived you don't want to overdo it. You want to do them justice and not just show them as the bad guy so you can also show them as the good guy. You have to humanize this person and audiences should be able to understand and go, "Yeah, I know this guy." It's not just black and white. So, every time I do a scene I try to talk…This is the biggest TV role that I've done. So, I always turn to my director and ask, "How was that? It felt real. It felt good. How did it look?" I want to really do justice to the role and to the character, who actually walked in those shoes.
Q) What was it like working with Ryan Murphy and Matt Bomer?
A) Unfortunately, Ryan was not there. He was already working on his show in New York. So, I didn't meet him until they saw my show on Broadway. When I flew out of New York to begin filming in LA, Matt Bomer met with me at Fox Studios and we talked for a long time. We sat down and talked about Modesto Cunanan and how he wants to bring out this character and what he knows about and how he wanted to shoot this – which helped me a lot! For my roles in other TV shows, I was not really playing a big part. So, this was basically the first time I was directed and guided by a director. Matt is an amazing artist. He is so talented. He is such an amazing human being…And he looks like that! It's not fair! [laughs] I love him. I love working with him. I wouldn't mind being directed by him again. Also, Dan Minahan (who directed the ninth episode) is an amazing human being and just so open. Dan is one of the executive producers as well. I was just very blessed to have been given this opportunity.
Q) What were some of your most memorable moments from filming "American Crime Story?
A) There are two that stand out. One of them is a very intense scene with Darren Criss and it was so dynamic. It was so amazing and intense that we just went for each other. He was such a giving actor. Even when the camera was not on him he was just so giving. I felt like, "Oh my God! I'm an actor! I'm a TV actor!" It felt so good and it gave me so much confidence. The second one goes back to Darren Criss. I can't say enough about him. I'm just so excited for him because this is a role that will showcase him and really show what he has – what he is about. He has so much to give. We were shooting this scene that was really difficult (which I can't really say now) and we were having a hard time with it. We were rehearsing it and I kept cringing. Matt looked at me and said, "I understand." And we talked about it. He talked me through, he calmed me down and said, "We don't have to go there unless you want to." He put me at ease and it was so tender. He was so gentle with me. He understood my dilemma. I felt so safe. I get emotional talking about it. He's amazing! I love him. I love them all!
Q) What is it about the Gianni Versace story that makes it so fascinating?
A) I think it's because it is that time where being gay…Maybe it was a turning point about talking about it and being open about it. It was something that even the powers that be during that time were trying to push aside as not important thinking, "He's only killing homosexuals anyway." When that happens…When a big name is one of the victims it becomes more than that and people actually had to do something about it. I think it is the failure to understand. Failure to open minds and accept people and accept that we're all the same. It's a shame that it took a famous person to die for them to take it seriously.
Q) You are a part of social media. Are you looking forward to the instant fan feedback you'll receive to episodes?
A) I don't know. [laughs] I joined social media because it was fun. It's fun to do my thing and share it with people who follow me. I would 99.9% of the people who follow me are really nice people and really positive people. I might not be looking forward to the negative ones. I tend to take it personally and I don't know if I can handle that. I will engage positive people just talking about beautiful weather, but the negative ones I don't know if I have the patience or the cleverness to tackle that. For the most part, I will talk to the positive ones because life is too short.
Q) What did you personally take away from working on the show?
A) I always believe that things happen for a reason and I think this is something that happened at the right time. I was having a conversation with Darren Criss about the show and he said, "I'm just so blessed, but it's interesting that this blessing comes at the expense of someone else because it happened to someone else and now I'm playing it and it's such a great role." I told him I feel the same way. Someone had to do a horrible thing for us to get this. But I'm just grateful and if we can shine a light on this story and to this topic then I'm very humbled. And if this produces more work than I would humbly accept it. Amen.
Q) What would you like to say to everyone who is a fan and supporter of you and your work?
A) My deepest gratitude. And I apologize for not being as interesting as a lot of people in the industry, but I promise to work hard and tell a lot of stories. And tell them well.