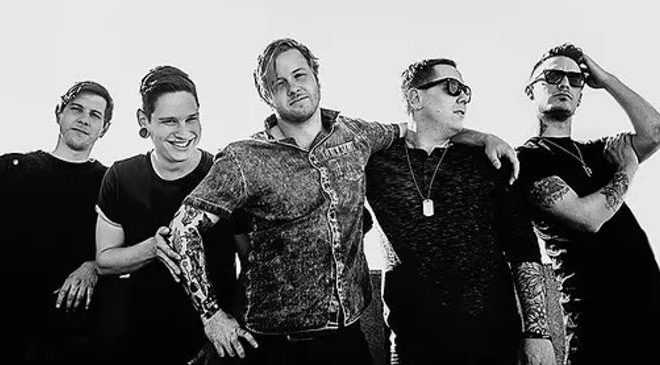 Interviews
Lakeshore – 41
By
|
By: Jamie Steinberg
Q) How would you describe your sound?
A) I'd describe our sound as like a new wave ambient rock. We really try to set in good grooves with a melody yet keep that rock n' roll edge.
Q) Who are some of your musical influences?
A) We love everything from Deftones to Aerosmith…Anything and everything goes with us in Lakeshore.
Q) Talk about the story behind your new song "Future."
A) "Future" is just a positive song almost like our "war cry." [laughs] The lyrics are pretty self evident.
Q) What do you think it is about the song that fans connect to?
A) Again I think just the positive "all-for-one" nature of the song gives people something higher to connect to.
Q) How did the album get the name 41?
A) 41 is the house number Joe and I grew up in. Lakeshore is the street name. We wanted to keep everything as real and personal as we could and these things just felt natural to call our band and EP.
Q) The album will be released on August 4th. How do you plan to celebrate?
A) August 4th is the first show on the "Hero With A Thousand Faces" Tour with Alesana, Eyes Set To Kill, Alteras and The Amatory Murder. So, we plan on spending it with old friends and new in Pennsylvania at the Chameleon Club
Q) What is your song writing process? Do you need music before you can create lyrics?
A) Usually, I (Ben) come up with some sort of instrumentals/idea for a song then Shawn [Adams] and I will sit down and start getting our thoughts together as far as lyrics and melodies go.
Q) How much of hand do you have in the production of your music?
A) Pretty much 100% most of the production was done in my home studio and then solidified and spiced up when we went into the studio with Ken Susi.
Q) What can fans expect from a live Lakeshore performance?
A) Lots of energy and a good time…
Q) You're headed out on the 2017 Vans Warped Tour. Which songs of the album are you most looking forward to performing for an audience?
A) "History" and "Kings" are two of my favorite to play…
Q) Where are some of your favorite places to perform and what makes those locations so significant to you?
A) We have deep roots in Southern California and on the east coast from Joe [Lionetti] and I's time with Emmure. So, it is just getting to reconnect with familiar faces anywhere is a good time.
Q) What do you hope listeners take away from 41?
A) I hope they take away something positive and meaningful. We try to promote self-help and empowerment so listeners can apply it to their own life and better their life or situation.
Q) Who would you most like to collaborate with on a song in the future?
A) We love bands like Deftones, Korn, A Day To Remember, Bring Me The Horizon they have really paved a way for bands like us. So, working with anyone of them would be awesome!
Q) What album/band are you currently listening to and why do you dig them? 
A) I love the newest Circa Survive album. They have an epic sound I just can't get enough of.
Q) You are a part of social media. Why is that such an important way for you to connect with your fans?
A) Being a young band social media is the number one way to reach new fans and listeners. Since the shows and tours are just starting to roll in it gives them a chance to hear our product before they see us at a show.
Q) What would you like to say to everyone who is a fan and supporter of you and your work?
A) We can't thank you enough we truly appreciate it from the bottom of our hearts and we hope to see you all very soon!
ALL QUESTIONS ANSWERED BY BEN LIONETTI