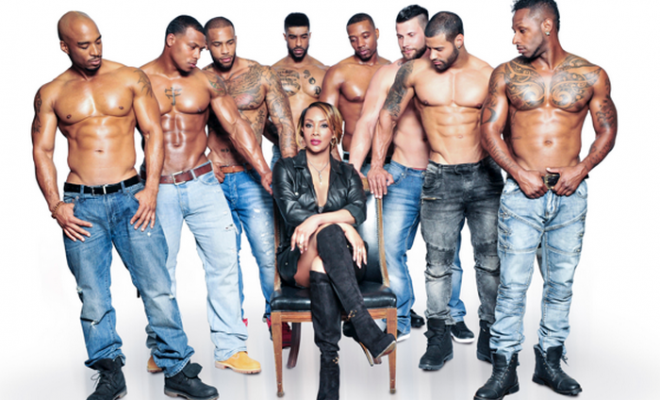 Interviews
Vivica A. Fox – Vivica's Black Magic
By
|
By: Jamie Steinberg
Q) What are the recent projects that you have been working on?
A) I did my directorial debut. A lot of folks wanted me to get into directing and I was like, "Oh, I don't have time! I've got so many things going on!" I have been working with this young new artist named Thomas Hobbs and I directed the video for "We On," which people can check out. We just did a big interview and they will be releasing the video on Revolt TV. I just signed a book deal with St. Martin Press. I will be having a book come out that is motivational and inspirational. They can catch me more on "Empire" and I have a hairline Vivica Fox Hair Collection that is doing fantastic and I thank all my girls for loving good hair. Last, but not least, I have a clothing line The Vivica Fox Collection by Poetic Justice Jeans that is an affordable line for girls with curves.
Q) How did "Vivica's Black Magic" come to Lifetime?
A) I was working with Jean-Claude La Marre, the director, and I just pulled him to the side one day. We were talking because I played the mom in Chocolate City and he was showing me some of the dancers. I was like, "Dude! You have a gold mine here! It is the gift that keeps on giving! You could do a reality show and a tour. It was just limitless with what you could do with this! He was like, "How about you and I go pitch it and see what happens?" So, we got together with Howard Owens from Propagate and the day we met with him he was having a meeting with a gentleman with Lifetime. Lifetime was looking for more edgier new shows. We pitched it to them and BAM! A year later and eight shows later…here we go!
Q) How involved were you with casting?
A) Heavily! I was heavily involved! It is called "Vivica's Black Magic" for a reason! We cast guys from all over the country. I was surprised how many guys showed up to audition and they were all different forms of dancing. It wasn't just exotic dancers. We had ballerinas, modern dancers and you more. You're going to see all of that in the first episode and be like, "Okay!" They showed up and showed out. The main thing we were looking for…We had Bolo who was our existing guy from Chocolate City who is just amazing and you'll see why he didn't have to audition. But we wanted to form what we have called my "elite eight." They are from all over the country and we were looking for guys that had that "it factor" who could be part of a team with the ultimate goal of getting us a residency of Vegas.
Q) Talk about how you were able to make your final decisions on who would join the review?
A) We held auditions and narrowed it down. We had call backs and talked about it with Eurika, my showrunner and Kiana, my show coordinator. I think a lot of people think this is like a contest where at the end we crown the 2017 Exotic Dancer of the Year. No. Our goal was to create a group that could get a residency in Vegas and that we could take on tour. During the process of the show, I met Billy Cross from Thunder From Down Under and he was explaining that this is big business. Not only are they booked up in Vegas, but they have an international and domestic tour that is booked up year round. I was like, "Okay I'm on the right track." So, it is going to be wonderful for you guys to watch the business that goes on behind this show to see three women be in charge of eight alpha men.
Q) What are dynamics like with you running the show? Do the men respect having a female in charge?
A) That is where you are going to get to see the drama. Thank God the majority of them have respect for Vivica Fox and the brand of Vivica Fox. You're going to see that with guys they are going to try to work the ladies. They are going to try to be conniving and my team didn't play that. I didn't play that. You had to be a professional, show up and know your stuff. I would bench them in a heartbeat. "You're not dancing tonight." All of that goes down. We took this extremely serious because it was my name, my reputation, time and my money were put on the line with this. If you come to see a Vivica Fox production, it wasn't a joke. I didn't want you to walk away and say, "What the hell is she doing?" We want you to walk away and go, "My girl! She's always coming through with something new and fantastic."
Q) What kind of rules and guidelines were the men given in about their personal performances?
A) There are no penises in the face. [laughs] We learned, especially from Marklen Kennedy and Billy Cross that there were limitations on things that you could do. There are things you could and could not do. It was letting those guys know that once we got to Vegas what our restrictions were. I was kind of surprised like, "Oh gee! Really? In Vegas?" It was letting our guys know that this is really serious and how they had to just come out and do the art of seduction to pull the ladies in. Women are different from men. Men want you to put it all up in their face and women have to be seduced up out of their chairs. That was what we really wanted to do – the art of seduction. It isn't just coming out and throwing it in your face. It was what can you do for that fantasy and that escape – the art of seduction. It was about achieving that.
Q) What kind of feedback have you gotten from the ladies about the review?
A) Oh my gosh! I have got them salivating and waiting! When they show the teasers, people are like, "Baby, I'm ready for my Wednesday night! I'm going to have a good time!" With all of this craziness going on in the world, every Wednesday night they know they are going to get to escape and have a little bit of fun. Our goal was to create the ultimate girls night out and I really think that the eight shows you are going to see each week has a new theme and a new dance where you wonder if we can pull it off. We held parties for my VIP celebrity guests. We did private parties. We opened it up to LA and did a finale showcase in Vegas. Could we do it? Did we have what it takes? Because it is a lot harder than you think.
Q) What were you surprised to learn during this creative process?
A) What shocked me was how much work was involved because there would be times with just three girls being in charge…Then, we also had Darrin Henson our lead choreographer. He has choreographed for Jennifer Lopez, Britney Spears and N'Sync. You would have some of the dancers wanting to challenge him and then you would have some of the dancers tripping about the wardrobe. They would be little drama queens about the wardrobe. You would think that girls were drama queens, but these guys would be like, "What about me?! I'm not in front!" To watch these guys it was like, "Oh my gosh! Would you just shut up and dance?" [laughs] To watch that journey was a trip!
Q) What do you hope viewers take away from watching the show?
A) They can trust that if they want to have a girls night out they can trust "Vivica's Black Magic" to deliver. Our girls want to have bachelorette parties and divorce parties. They want to have Wednesday night parties and they want to hang out with their girls. They can trust us to deliver a girls night out that after each time, any time we would do stuff, my texts would blow up the next day from my girls saying, "Oh my God! We had the best time!" It was classy and they had a good time. They could let their hair down and trust me to deliver a sexy party for them.
Q) Everyone wants to know your secret to never aging! Please spill.
A) I work a lot so I always believe in taking care of my skin. I have a wonderful aesthetician by the name of Sharon Stutz that takes good care of my skin monthly microdermabrasion and oxygen facials. It is just a light buffing of the skin and then there is an oxygen facial to give you that glow and keeps your skin hydrated. I always tell my girls to keep their spirit happy and hydrate, hydrate, hydrate. Beauty must start from the inside and then if you take good care of your skin it will radiate from the outside as well.
Q) Is there anything else you want to be sure fans know about "Vivica's Black Magic?"
A) I just want them to know that every Wednesday night you'll get to have your little fantasy night. Whatever fantasies you have like An Officer and a Gentleman to a fireman to a man in a suit to an Egyptian ride, to Tarzan to a police officer – every night for eight weeks in a row that guy will be showing up for you.