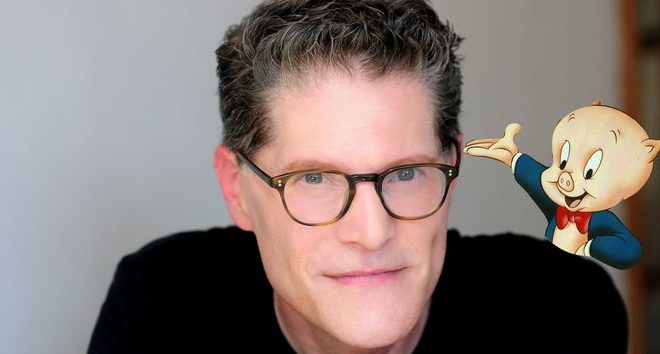 WB
Interviews
Bob Bergen – New Looney Tunes
By
|
By: Lisa Steinberg
Q) What are the recent projects that you are working on?
A) Well, we sign NDAs for most projects so we are limited about what we can discuss before they are out there.  But I'm currently recording Season 3 of "New Looney Tunes." I'll be recording episodes of new shows after the first of the year, including Vampirina.  I worked on the new season of "Robot Chicken," "Bunnicula" and "TripTank." Films I worked on this year include The Emoji Movie, Despicable Me 3, Deep, Smurfs: The Lost Village. Plus I was just re-elected to the Board of Governors at The Television Academy representing performers. Bottom line, I'm busy!
Q) How did you come to do the voice for Porky Pig?
A) Long story, which you will find on my bio: http://bobbergen.com/bio.htm
Q) What have been some of your most memorable moments of portraying this character?
A) Our current series "New Looney Tunes" is awesome!  Best writing I've ever had the pleasure to be a part of at WB.  Our writer/producer Matt Craig has done an amazing job of putting these characters in contemporary situations while honoring their integrity.  I'm also blessed to work with voice director Collette Sunderman, whom I've worked with for many years on many, many Looney Tunes projects.  She understands these characters as well as we actors do.
Certainly, Space Jam was a memorable gig. That was kinda early on in my WB tenure. I also loved the series "Duck Dodgers."  Brilliant writing, reminiscent of Chuck Jones.
Q) What is it about voiceover work that you most enjoy over screen work?
A) What I enjoy is the fact you never know what you are going to play. One day you are a stuttering pig, the next you are doing promos for a major TV network. From a creative standpoint, it never gets dull. Plus, I hate to shave or memorize lines!
Q) What has been your favorite role you've done so far?
A) Without a doubt, Porky.
Q) What advice would you give someone looking to enter the voiceover field?
A) It's not about the voice, it's all about acting.  No one needs another voice. They need brilliant actors.  Study acting and improv.  THEN, study voiceover.  Online you can check out the websites and demos of every working and represented voice actor in the business –  https://www.voicebank.net/all-talent-agencies. You can also watch hours of interviews with top voice over actors, agents and casting directors here – http://www.vobuzzweekly.com.
The internet makes everyone a click away.  Don't go to others in the same boat as you with a desire to get into the business.  Go to the top – those who have the career you want.  Between LinkedIn, Facebook, and Twitter everyone is accessible.
If animation is your thing, you need to concentrate on the Los Angeles agents, such as Atlas, WME, CESD, SBV, DPN and AVO.  As you research working actors, understand that this is what the agents DON'T need.  They don't need more of what and whom they already represent.  They need originality.  They need individuals with individual styles and personalities.  But this industry holds auditions every day because they are always on the hunt for the next brilliant talent.
Q) You were twice nominated for an Emmy. How did that make you feel?
A) Pretty surreal.  It's a month-long party.
Q) Is there an actor/actress you would most like to work with in the future?
A) Good question.  I'm fortunate that I know and work with every major voice actor in animation.  When you do a feature, you often work alone.  So even if there's a major celeb in the film, odds are we will work separately.  But my dream list?  Meryl Streep, Tom Hanks, Melissa Rauch, Shirley MacLaine and what might seem like an odd addition, Andy Cohen, as I'm a nut for reality TV.
Q) You are a part of social media. Do you enjoy the instant fan feedback to your projects?
A) Sure!  We are nothing without our fans.  Before social media and fan conventions like Comic Con, you didn't have a clue who watched your work or even liked what you did.  I have a nice house and a great lifestyle due to the wonderful fans out there.
Q) What would you like to say to everyone who is a fan and supporter of your work?
A) Thanks!!!!!  Hope to keep bringing you more and more!