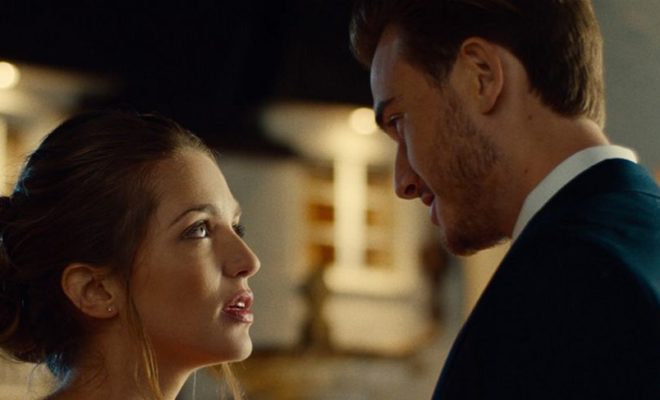 Trust Fund Film
Interviews
Matt Kane – Trust Fund
By
|
By: Lisa Steinberg
Q) What are the recent projects that you are working on?
A) I recently wrapped a project called Blackout and am in development for a film I've co-written called Auggie.
Q) Please tell us the premise for the film Trust Fund. 
A) It follows the story of Reese Donahue (Jessica Rothe), a young woman who betrays her family and questions everything they stand for when she chases after what she thinks is love. She makes some questionable decisions, but through forgiveness ends up exactly where she's supposed to be.
Q) How was your character Sam in Trust Fund originally described to you?
A) As a wholesome, kind and loving young man who has the best intentions for Reese and is driven for his budding law career.
Q) What attracted you to the role?
A) I liked his vulnerability. He wears his heart on his sleeve and tells it like it is.
Q) What did you find challenging about this character?
A) I've always been interested in subtext and what goes unsaid in filmic storytelling. Finding a way to generate thought and complexity underneath my lines was a little more challenging when Sam is so honest about what he feels.
Q) What was it like working alongside Ana Ortiz and Willie Garson?
A) I actually never worked with Willie as he left town before I arrived to shoot. That's often the way it goes with films, but Ana and I had a blast off screen. She's lovely.
Q) Was there any piece of advice that director Sandra L. Martin gave you that you took to heart during filming?
A) Sandra directs in a very personal way. She has a calming presence and finds the scene through collaborative conversation.
Q) What were some of your most memorable moments shooting Trust Fund?
A) I loved shooting on location, particularly in some beautiful houses. We had the kindest hosts and local members of the community who were excited to be involved. I got a real sense of how supportive the KC community is with film.
Q) What do you hope people take away from watching the film?
A) I hope they get a reminder that nobody is perfect and we all make mistakes. It's about the choices we make after our mistakes that count.
Q) You do a lot of dramatic work. Is there something about this genre that really draws you to it?
A) It's just always been the work that was brought to me. I'm not exactly sure why, but maybe I just seem terribly dramatic…[laughs] But, I like working in drama as it explores the truth in real life situations, the higher stakes, etc.
Q) You are a part of social media. Do you enjoy the instant fan feedback you receive to your roles?
A) For sure! I've always enjoyed social media as a way to connect with people you're likely not going to meet in real life. It's gives me a sense of having some company.
Q) What would you like to say to everyone who is a fan and supporter of you and your work?
A) Thank you for being supportive. Recognition is a lovely thing and can help validate some of the hard work I put in to my passion every day. Thanks so much! [smiles]